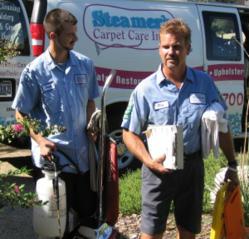 San Antonio, Texas (PRWEB) August 28, 2012
Steamer's Carpet Care, carpet cleaners in San Antonio, is running a host of specials for a limited time.
The specials are available through the coupons posted on the specials section of the Steamer's Carpet Care website.
The company is offering a three-room cleaning package for $109, with the option to add stair cleaning for $30 extra as part of its San Antonio carpet cleaning specials. Customers can also get their entire home, under 3,000 square feet, cleaned for only $209. For a home under 2,000 square feet, Steamer's Carpet Care only charges $169 as part of the special. Stairs are still $30 extra.
Customers looking for San Antonio tile and grout cleaning can have their tile and grout cleaned with pre-condition, rotary scrub and high-pressure "turbo" rinse using Steamer's Carpet Care's powerful truck-mounted and no mess equipment for only $0.69 per square foot. For an additional $0.39 per square foot, Steamer's Carpet Care will seal the grout to keep it having a "like new" appearance.
"We're excited about these specials," said Jon Bibb, the owner of Steamer's Carpet Care. "They're good discounts off our everyday price and can help families who really need their carpets, rugs, tile or air ducts cleaned, but maybe don't want to pay as much as it normally costs."
Steamer's Carpet Care is also running a special on Air Duct Cleaning for under $200. The company's technicians will clean up to 10 supply vents and one return vent and the vent covers. Additional vents are only $20 each with coupon from the Steamer's Carpet Care website.
About Steamer's Carpet Care
Steamer's Carpet Care prides itself on offering exceptional carpet care to the San Antonio and New Braunfels areas. The company provides all varieties of floor cleaning, from carpet to tile, commercial services and water extraction.
###