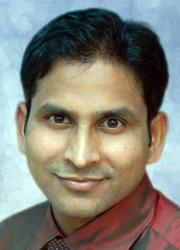 Our intention is to do anything you want for your pet at anytime you ask.
San Antonio, TX (PRWEB) November 30, 2011
Becker Animal Hospital and Pet Resort is pleased to announce the addition of a seventh full-time veterinarian, giving the huge San Antonio veterinary care complex the largest medical staff of any locally-owned facility in the metro area.
And the animal care and pet boarding center, which handles more than 35,000 pet visits a year, has also expanded its international talent pool, with more than half the staff veterinarians now bringing skills from around the globe.
The most recent staff addition is Dr. Ravikumar Killi, DVM, who is focused on the exclusive practice of small animal medicine and surgery. Dr. Killi, who earned his initial veterinary medical degree in Bhubaneswar India, received an advanced degree in veterinary infectious diseases from the College of Veterinary Medicine at the University of (Athens) and completed a one year clinical rotation program at Oklahoma State University College of Veterinary Medicine.
Other staff veterinarians include:

Dr. Obiageli Okafor, DVM – A native of Nigeria, Dr. Okafor has been practicing veterinary medicine for more than two decades, beginning with 15 years in her home country before moving to Texas in 2001. In addition to medicine, surgery and dentistry, Dr Okafor is an accomplished emergency clinician and surgeon.
Dr. Mircea Volosen, DVM – A native of Romania, Dr. Volosen graduated from the University of Missouri at Columbia. His nearly three decades of veterinary experience make him an accomplished emergency care physician and very skilled in medicine and surgery.
Dr. Mina Youssef, DVM – Dr. Youssef began his veterinary practice in his native Egypt in 2002, before moving to the United States, where he continued and graduated from the University of Missouri School of Veterinary Medicine in 2007. He is an accomplished medical doctor and surgeon.
Dr. Adam Carter, DVM – Dr. Adam Carter received his Doctorate in Veterinary Medicine from Kansas State University in 2005. He comes to Becker Animal Hospital after five years' experience in large practices in Wichita, Kansas.
Dr. Sarah Pittman, DVM – Dr. Pittman, a San Antonio resident since the age of 8 years, received her Doctorate in Veterinary Medicine from Texas A&M University in 2010. She enjoys the challenges of emergency animal care as well as routine wellness care and has the opportunity to do both by working the evening and overnight shift.
Dr. Michael C. Becker, DVM - The founder of Becker Animal Hospital and Pet Resort, Dr. Becker is a native of St. Louis, Mo, received his Doctorate of Veterinary Medicine from the University of Missouri at Columbia. After starting his career in Las Vegas and San Antonio, Dr. Becker launched his own practice in 1986 on West Ave. Seeing the need for expansion, he built and launched the current 24/7 medical and pet boarding complex in late 2009.
"Becker Animal Hospital will continue to grow with the principles upon which it was created on: service to our human and, especially, our animal clients," says Dr. Becker "Our mission is to provide the client and their pet with the highest quality pet care possible in an immediate, on-demand environment. Our intention is to do anything you want for your pet at anytime you ask."
About Becker Animal Hospital and Pet Resort
Becker's is a full-service 24-hour, 7-days-a-week veterinary hospital equipped to handle emergency vet care, surgical and medical cases, as well as routine vaccinations and wellness care. At 22,000 square feet, the brand-new state-of-the-art facility is one of the largest in Texas. No appointments are necessary, and regular prices are in effective around the clock – never any extra emergency fees for nights or weekends. A spacious lobby and seven exam rooms ensure pets are seen quickly and efficiently.
Becker's pet boarding facilities range from economy cages to luxury suites with windows and Petcam views so owners can monitor their pets. Amenities include 53 luxury dog boarding suites, many of which have outside window views, spacious kennels, indoor-outdoor kennels and economy cages. The Cat Boarding Condos are located away from the dogs, with many having outside windows and a view of a large tropical fish tank. Doggie Daycare is also available. Like the medical facilities, Becker pet boarding accommodations are available for pickup or drop-off 24/7 at the customer's convenience. And veterinarians are on duty around the clock in case of medical emergencies.
The complex is conveniently located on I-10 West, just inside Loop 410, across from the TexSan Heart Hospital, with easy-access parking and a covered entry drive for wet weather.
# # #