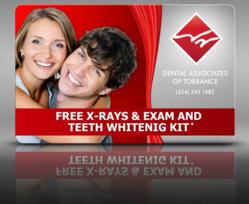 Care to Share ... Of all types of leads, most dental professionals value patient referrals as the best for producing new patients
SAN ANTONIO, TX (PRWEB) December 31, 2011
Cook Profitability Services, a San Antonio web design, internet marketing and media services firm that specializes in dental professionals, has announced its expansion into internal marketing with the Care to Share program of profitability tools designed to boost in-house new-patient referrals dramatically.
"While dental referral programs aren't new, the Care to Share program brings them to a whole new level," said Debbie Baumgarten, CEO of the San Antonio web and marketing company. "Of all types of leads, most dental professionals value patient referrals as the best for producing new patients."
Traditional patient referral programs generally include mailings of special-offer postcards. And while these have had some success, Baumgarten said dental professionals using the new Care to Share program are seeing a doubling or tripling of new-patient referrals.
The new CPS service includes providing the practice with high-end plastic cards – similar in quality to a Starbucks gift card – that are provided to patients, who are encouraged to give them to friends or family that may need dental services. The cards are custom designed for the individual practice, and can be recycled to new patients after use.
Staff participation is integral to the Care to Share program, and CPS services include an e-learning web-accessible training course. This teaches dental staffers their role in marketing the product.
An optional web-access dashboard provides a one-stop control panel for all the dental office's marketing efforts, allowing practices to see exactly what calls are coming in from which marketing efforts. It also allows managers to listen to recordings of calls, so they can monitor their staffers' skills at customer service.
These expansions allow CPS to continue its vision of being a one-stop national shop that can handle all aspects of a practice's marketing, publicity and workflow and fiscal efficiency – all aimed at gaining and retaining customers and improving profits.
Other services include:

Web Design – Delivering turnkey sites tailored to specific professional specialties. CPS specializes in state-of-the-art frameworks for the Wordpress Content Management System – the leading open-source CMS. Wordpress is especially suited to flexibility in custom design and add-on functionality tailored to individual practices. It is also extremely easy to train staffers at the practices, allowing them to make updates to pages and add articles and photos, rather than working through an ongoing web developer.
Internet Marketing – Including Pay per Click advertising campaign development and ongoing management, internal and external search engine optimization and social media marketing.
Search Engine Optimization – SEO specialists use a variety of cutting-edge tools and strategies to make websites as friendly as possible to search engines, and to optimize both onsite coding and content, as well as compelling offsite content, to boost search engine rankings.
Traditional Marketing – Including market research, analysis and branding strategy.
Traditional media advertising and promotion – Including print inserts, print placements, radio and television.
Direct mail – Specializing in development and printing of compelling direct-mail promotion, including newsletters, brochures and postcards, highly targeted to specified neighborhoods surrounding the practice.
Public relations – CPS provides both traditional news releases and SEO-targeted press releases for extended reader interest. PR services also include online reputation management - a critical issue facing dentists and other professionals - and social media and press relations handled by a two-time Pulitzer Prize winning journalist and veteran newspaper editor.
Office Organization – CPS consultants have significant experience in analyzing and restructuring company staff and workflow organization at multinational corporations, as well as training managers and staffs in how to work within the structure to dramatically boost productivity and fiscal efficiency. CPS is now providing this elite organizational technology at the individual dental and professional office practice level.
Optimization of Profitability – In harmony with the organizational overhaul, CPS analyzes expenditures and efficiencies of scale to optimize profits at individual practices.
About Cook Profitability Services
CPS is a national full-service marketing, new media development and management consulting firm, based in San Antonio, specializing in comprehensive profitability services for dental practices and professional offices.
Cook Profitability Services
4952 Windsor Hill Suite 203
San Antonio, Texas 78239
210-646-8944
# # #