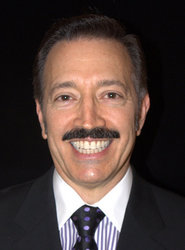 It was love at first bite when I met Dr. Camacho! He gave me the smile I have been waiting for all my life.
San Antonio (PRWEB) October 25, 2010
Cosmetic Dentistry of San Antonio, featuring the work of veteran San Antonio cosmetic dentist Edward Camacho, DDS, announces the grand opening of its new practice, conveniently located in the city's North Central region.
The office, located at 16535 Huebner (at Bitters), in the Valencia Village Shopping Center, is a showcase of cutting edge dental technology, elegant surroundings and "green" business practices.
Cosmetic Dentistry of San Antonio's luxurious style begins at the reception area, which has the ambiance of a boutique hotel – where guests are treated to gourmet, fair-trade coffee, water and juice. The reception area also offers computers, where guests can check email or keep up with the news while they wait, or if they are accompanying patients.
Treatment rooms are set along an inviting hallway with vaulted ceilings and chandeliers. Each of the six treatment rooms is equipped with a television and a next-generation dental chair designed for maximum patient comfort.
Cosmetic Dentistry of San Antonio offers modern cutting-edge dental technologies, procedures and equipment that set it far ahead of other practices. Highlights include:

The Isolite™ System – A soft and flexible high-tech mouthpiece that shields the patient's tongue and cheek during treatment, provides suction to eliminate excess saliva, and gives the dentist good lighting.
Laser Assisted Cavity Detection - Lets the dentist discover the presence and severity of cavities through the emission of special light
Digital X-Rays in every treatment room – No harmful chemicals, and up to a 90% reduction in radiation exposure.
Intra-Oral Cameras – Allows accurate mapping of the entire mouth with greater detail and accuracy, and allows the patient to see what the dentist sees.
Digital Smile Makeovers – Software that lets the patient see how a cosmetic dental treatment will make them look.
Velscope – A special light that shows invisible changes in tissue, providing a sensitive early warning of oral cancer.
Dental Vibe – A vibrating device that greatly reduces the pain and discomfort of dental injections.
Custom restorations and chair-side shading
Works with a San Antonio dental lab works with a San Antonio lab that was one of only four labs to win awards in a national competition.
CDSA is a full-service cosmetic dental practice, specializing in Invisalign transparent braces, top-quality veneers, teeth whitening and traditional orthodontics, as well as a full line of restorative procedures and preventative care.
Dr. Camacho's work is praised by many of his patients, with testimonials including this one from J.H. "It was love at first bite when I met Dr. Camacho! He gave me the smile I have been waiting for all my life."
About Dr. Edward Camacho, DDS
Dr. Edward Camacho, DDS, who brings 30 years of experience to the new practice, is a native San Antonian and an alumnus of Central Catholic High School. He earned his bachelor's degree from the University of Texas, and his Doctorate of Dental Surgery from the University of Texas Health Science Center in San Antonio.
Dr. Camacho has extended training in cosmetic dentistry, orthodontics, computerized dentistry, endodontics and laser dentistry. He has been helping patients achieve beautiful smiles through full mouth reconstruction, veneers and Invisalign braces for over 30 years. His meticulous attention to detail, a keen aesthetic eye and his experience are what make him one of San Antonio's most sought-after premier cosmetic dentists.
Cosmetic Dentistry of San Antonio
16535 Huebner (at Bitters) Suite 102
Valencia Village Shopping Center
San Antonio, Texas 78248
(210) 493-9944
# # #