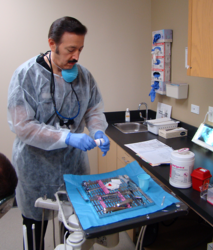 Everyone needs a helping hand from time to time, and I am happy to help.
SAN ANTONIO, TX (PRWEB) October 28, 2011
Scores of indigent and homeless San Antonians got critical dental care recently, as veteran San Antonio cosmetic dentist Eddie Camacho and a team of staffers joined dozens of other dentists, dental assistants, hygienists and other volunteers at the Smiles of Hope Clinic on the campus of Haven for Hope on the city's near West Side.
The Oct. 22, 2011, event – which targets indigent and low-income patients and residents of the Haven for Hope – was a daylong clinic to provide a range of services, from fillings to extractions to oral surgery, sponsored by the San Antonio District Dental Society. This was the second year for the Smiles of Hope Clinic.
The host location was the San Antonio Christian Dental Clinic – a facility that launched in 1986 in the Victoria Courts housing project. The ministry moved to the Haven for Hope campus in May 2009, joining dozens of other ministries, shelters and agencies groups providing shelter, social services and job training for the homeless.
SACDC is the only public dental clinic for adults in San Antonio. While public aid programs provide dental care for children, adults generally aren't eligible. The clinic is operated year-round by a roster of 70 volunteer dentists, half of whom donate services at least monthly. A small admin staff, supplies and utilities are provided through donations to the ministry.
Proper dental care is a critical part of services to the indigent and homeless, because dental problems can cause overall health problems. And for those seeking jobs, organizers said, a smile with broken or diseased teeth may prevent them from getting employment.
On Saturday, Dr. Camacho and his wife, fellow dentist and practice manager June Camacho, were joined by staff volunteers Lynda Lynch, Jacque Taylor and Brook Wilson, all dental assistants, and hygienist Rocio Flores. All are from Dr. Camacho's Cosmetic Dentistry of San Antonio, located at Bitters and Huebner in north central San Antonio.
Why do they volunteer?
"San Antonio is my home," Dr. Camacho said. "I grew up here and went to dental school here. "
"I want to give back to my community and donating my professional services is one way I can contribute," he added. "Everyone needs a helping hand from time to time, and I am happy to help."
June Camacho agreed: "Helping my fellow man is something that I have always liked to do. "
"It is easy to lose perspective in today's world of what is important and what is not," she said. "Helping my fellow man helps to keep me grounded."
Last year, a team from CDSA made the road trip to Hondo for the Texas Dental Association-sponsored Smiles on Wheels dental clinic.
Company Information:
Cosmetic Dentistry of San Antonio is a full-service cosmetic dental practice, specializing in dental crowns and dental bridges, Invisalign clear braces, top-quality dental veneers, teeth whitening and traditional orthodontics, as well as a full line of restorative procedures and preventative care.
16535 Huebner (at Bitters) Suite 102
Valencia Village Shopping Center
San Antonio, Texas 78248
(210) 493-9944
###