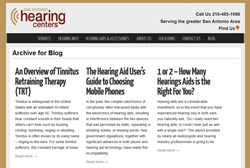 San Antonio, TX (PRWEB) April 30, 2013
San Antonio Hearing Centers has recently added a weekly blog to the company's website to share hearing health tips and research. Every week, the Hearing Instrument Specialists at San Antonio Hearing Centers will be adding a new featured article to the blog. These new additions will be automatically syndicated to the company's Facebook and Twitter pages to reach a wider audience.
The hearing care blog is a great learning resource for people who wear hearing aids in San Antonio, are suffering from hearing loss or have a loved one or family member with impaired hearing. Although the blog is still fairly new, it already contains articles that address many of the practice's frequently asked questions by consumers such as choosing a hearing aid compatible mobile phone, detecting hearing loss in children and deciding whether to wear 1 or 2 hearing aids.
About Debby Taylor, HIS
Debby Taylor is nationally Board Certified in Hearing Instrument Sciences (BC-HIS) and has advanced training on all major hearing aid circuits. She is licensed in the State of Texas, is a member of the Texas Hearing Aid Association and a member of the International Hearing Society. Taylor enjoys hosting community seminars and lectures for consumers and providing complimentary hearing and balance screenings in assisted-living homes and at health fairs.
About San Antonio Hearing Centers:
San Antonio Hearing Centers was established to provide patients the best possible hearing care based upon their individual needs. The company provides a full array of services related to prevention, evaluation, and rehabilitation of hearing impairment. With respect and compassion, San Antonio Hearing Centers will actively listen to how hearing loss has affected the quality of each new patient's life. The company is committed to removing the barriers between the client and the professional to collaboratively work toward better hearing and understanding. San Antonio Hearing Centers has 5 locations and 6 Hearing Instrument Specialists to serve you. Four locations throughout San Antonio and one in New Braunfels.
Contact:
Debby Taylor
http://www.sahearingcenters.com/
San Antonio Hearing Centers
8003 Broadway St
San Antonio, TX 78209
(210) 428-6900
San Antonio Hearing Centers
12413 Judson Rd, Ste 200
San Antonio, TX 78233
(210) 485-1996
San Antonio Hearing Centers
510 Med Court, Ste 203
San Antonio, TX 78258
(210) 390-0899
San Antonio Hearing Centers
8600 Wurzbach Road, Suite 500
San Antonio, TX 78240
(210) 390-0839
San Antonio Hearing Centers
628 B South Business 35
New Braunfels, TX 78130
(830) 387-2389