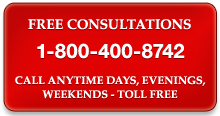 When we heard that this company continued on with another tour bus departure after this accident we decided to set up the No Cost Injury Hotline Immediately
Loma Linda, Ca (PRWEB) February 05, 2013
San Bernardino bus accident lawyers at The Scranton Law Firm are announcing a new No Cost Injury Hotline in response to the recent tragic tour bus accident that has left several people dead and many more injured. According to the Los Angeles Times early reports about the tour bus company suggest that they had a history of maintenance problems with their buses before this accident occurred. "Anytime we hear about accidents that maybe could have been avoided we feel like we should do everything we can to help the families. We set up this new No Cost Injury Hotline because there is a strong likelihood that this bus may have had maintenance issues that we part of the cause of this terrible accident," says Dalton of The Scranton Law Firm.
According to reports from the Los Angeles Times the Tijuana-based agency that contracted the bus that flipped on a mountain road near Yucaipa suspended operations Monday as investigators continued to comb the wreckage of the crash, which killed at least seven people and injured dozens of others.
The tour bus, owned by Scapadas Magicas of National City, was operating under a contract with InterBus Tours and Charters, located in a strip mall in an upscale district near Tijuana's restaurant row. The agency closed its office on Monday, but not before another bus in the morning departed for Knott's Berry Farm with about 30 passengers.
"When we heard that this company continued on with another tour bus departure after this accident we decided to set up the No Cost Injury Hotline Immediately," said Dalton. San Bernardino wrongful death lawyers at Scranton Law Firm are dedicated advocates for accident victims. According to the Los Angeles Times, Citations of the tour buses owned by Scapadas Magicas were numerous and serious enough that the company was placed on a federal watch list that flagged its buses for increased roadside inspections. Bald tires, defective or missing axle parts, and insufficient brake linings were among 59 maintenance violations inspectors found on the firm's buses in the last two years, U.S. Department of Transportation safety records show.
To learn more about the San Bernardino wrongful death lawyers at Scranton Law Firm please visit their website. To contact an experienced San Bernardino tour bus accident attorney please call the No Cost Injury Hotline at (800) 400-8742.