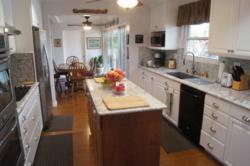 Los Angeles, CA (PRWEB) March 20, 2012
Many of today's new custom homes incorporate open floor planning, creating a seamless, luxurious space where guests and hosts, as well as parents and children can interact without limitations. However, even older homes can be renovated to create an airy and open space by removing walls and widening passages.
Like many homeowners, Loretta and John Iacono, loved the idea of having an open kitchen for entertaining and family gatherings, but cringed every time they looked at their old fashioned, dated kitchen. When the couple couldn't stand it anymore, they called Dave's Remodeling.
"My kitchen was very old and all the cabinets were falling apart," Loretta says, adding that their 2800 square foot, four bedroom, three bath San Bernardino home was built in the 1940s. "The entrance into the kitchen was very small. We wanted to extend the dining area into the kitchen to create a more spacious feeling."
By removing a wall, Dave's Remodeling reconfigured the room so the kitchen was sandwiched between a dining room on one side and a breakfast area on the other. The remodel transformed the kitchen into an airy and open space and allowed traffic to flow easily between the three rooms. However, the work wasn't without challenges.
"The job required replacing a load bearing wall with a structural beam to support the second story," explains Dave Telem, a general contractor and owner of Dave's Remodeling. "In addition, the floors were uneven and needed to be leveled before the remodeling began."
The renovation included custom granite countertops, a glass tile back splash, and new custom cabinetry, lighting, flooring, and appliances. In addition, a kitchen island on wheels added style, prep space, versatility, and storage. The final results were stunning.
"We enjoy educating our customers, assisting them with the design, and helping them choose colors," adds Dave, who is on-site and hands-on for all their projects. "We keep in constant communication so customers know exactly what's going on and can keep track of the progress of their project."
"Dave gave us a lot of good ideas and his workers were really easy to work with and on time," Loretta says. "The kitchen is so much roomier and it's beautiful. We plan to do more remodeling in the future and will use Dave again. I'd definitely recommend him to others."
To learn more about this business that is family owned and operated with an A rating from the Better Business Bureau, please visit their website http://www.daveremodeling.com.
About Dave's Remodeling
Dave's Remodeling provides clients with award winning, quality home improvement projects at prices customers can afford. They provide remodeling, home improvements, new construction, kitchen and bath remodels, roofing, flooring, patios, additions, siding, and interior and exterior painting. In addition, they offer upgrades to ensure homeowners comply with city ordinances and meet energy efficiency requirements. They serve Los Angeles and San Bernardino Counties including Lancaster, Palmdale, San Bernardino, Redondo Beach, Chino Hills, Carson, Northridge, Topanga, and Carson.