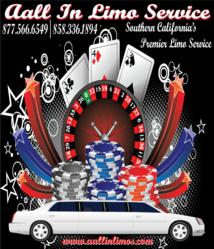 San Diego, California (PRWEB) November 28, 2012
As one of San Diego's top limo companies, Aall In Limo Service is happy to announce that it is running a video contest for a free limo tour of some of San Diego's finest breweries. The limo company is a proud supporter of the local craft beer community and is excited to hold the contest.
According to Aall In Limo Service, the contest is easy to enter. Participants are required to 'like' the limo company's Facebook page and to upload a video stating why they should be the winner. "It's as simple as that," says Aall In Limo Service.
Participants who have already used Aall In Limo's services are encouraged to submit videos about their experience. The winner will be announced via Aall In Limo's Facebook page on Dec. 29, 2012 — perfect timing for the New Year. The winner will receive a 4 hour limo tour for up to nine guests (including the winner). The prize is valued at $550. Beer tastings are not included.
For contest details click here. For more specials and promotions visit Aall In Limo on Facebook.
About Aall In Limo Service, LLC
Aall In Limo Service, LLC is a premiere San Diego limo company, specializing in beer tours and Temecula Valley wine tasting tours. For pricing and other information contact the friendly and professional staff at Aall In Limo Service, LLC at 1-858-336-1894. We look forward to seeing your video!