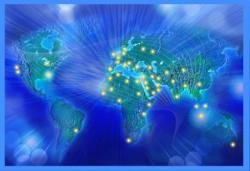 Enteracloud Network Upgrades Ensure San Diego is no Longer the Cul-de-Sac of the Internet.
San Diego, CA (PRWEB) July 27, 2011
Enteracloud Solutions, a leading provider of small business cloud computing and San Diego Colocation services announced today it has undertaken a substantial network upgrade for its San Diego datacenter. Focused on the limited routes and connectivity options, Enteracloud has vowed to remove the stigma San Diego has earned of being the Cul-de-Sac of the internet.
San Diego colocation customers have been seeking higher performance network solutions, but until recently they have been unavailable or extremely expensive. San Diego Colocation customers have been dismayed at the cost and availability of San Diego network services.
Enteracloud has undertaken a substantial upgrade in network connectivity with the help of its industry powerhouse partners. Enteracloud is combining the connectivity of the two largest Tier1 providers plus direct connectivity to Coresite's Any2 network, and optical fiber private connectivity to popular datacenters in Los Angeles, San Diego and Arizona to create a truly high performance, highly resilient route optimized network.
Enteracloud will be rolling out phase one starting in August, with all connectivity expected to be in place in 90 days. Current San Diego Colocation customers will have first access to the upgraded network and will have several options, each designed for the utmost in customer flexibility. San Diego Colocation customers will be able to choose from fast ethernet, gigabit and 10 gigabit connectivity, with both flat rate and 95th percentile metered options available.
About Enteracloud
Enteracloud Solutions is a leading provider of infrastructure and cloud services for small businesses. By offering a complete portfolio of solutions that includes San Diego Colocation, Los Angeles Colocation and Phoenix Colocation they are able to provide customers end to end solutions. Enteracloud Solutions is based in Carlsbad, California. For more information about Enteracloud Solutions, please visit their website at http://www.enteracloud.com, email support@enteracloud.com or 858-433-8650.
###