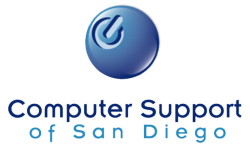 Computer Support of San Diego adds support for Polycom Soundpoint IP Phones
San Diego, CA (PRWEB) July 09, 2011
Computer Support of San Diego, a leading provider of San Diego IT Consulting and San Diego IT Services announced support today for Polycom Soundpoint IP phone for use with their Hosted VOIP PBX.
As part of the initial testing process, Computer Support of San Diego performed in depth real world deployment testing on several Polycom models, including the Polycom Soundpoint IP 650, Polycom Soundpoint IP 550 and the Polycom Soundpoint IP 7000. As part of the testing process Computer Support of San Diego tested voice quality, susceptibility to latency, recovery from corrupted images, support for automated deployment and provisioning, as well overall functionality. The entire set of Polycom phones passed each test and received and overall approval during June testing. Testing was performed with the latest firmware and SIP version available from Polycom at the time.
In addition to being supported by Computer Support of San Diego, Polycom was recently named the recipient of 2011 Microsoft Unified Communications Innovation Partner of the Year Award, for the company's leadership in delivering innovations that provide powerful, enterprise-grade UC and visual collaboration solutions for customers. Polycom is being honored for demonstrating excellence in innovation and implementation of customer solutions based on Microsoft technology. Polycom will be officially honored at Microsoft's Worldwide Partner Conference (WPC) 2011 this month during the Vision keynote and at the WPC 2011 Award Winners Executive Luncheon.
Computer Support of San Diego also recognizes Polycom as one of the market leaders of open standard SIP based IP Phones for VOIP systems. Polycom offers solutions that represent the forefront of technological innovation, from award-winning and world-renowned voice products to extraordinary high definition telepresence experiences. These market-leading solutions are available exclusively through trained and experienced professionals so that customers can be assured that their choice in phone systems will meet their needs and requirements.
Polycom Soundpoint IP Phone provide a highly visual and immersive unified communications (UC) experience, where people can connect, speed their decision making, and increase their productivity to benefit their companies and individuals inside their organizations and beyond.
About Computer Support of San Diego
Computer Support of San Diego provides live support via telephone or through the Internet 24 hours a day, 7 days a week. Customers can speak to a local employee here in the US if you have a problem. Computer Support of San Diego can fix most problems remotely, so that customers can be back up and running without having to wait for a technician to come to a customer's office. Computer Support of San Diego can help with server, desktop and network issues. To learn more about our San Diego IT Consulting and San Diego IT Services, including Hosted VOIP PBX please call our sales team at 858-384-0989 or email info(at)computersupportsandiego(dot)com.
# # #