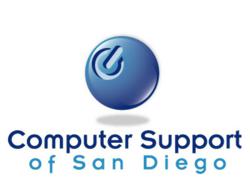 San Diego, CA (PRWEB) July 25, 2011
Computer Support of San Diego announced today it has expanded IT Support in San Diego with new features being as part of the San Diego IT Support offering. In addition to the current features offered as part of San Diego IT Support, Computer Support of San Diego is now offering San Diego IT Services, San Diego IT Consulting and Hosted VOIP PBX.
Computer Support of San Diego has been providing San Diego IT Services and San Diego IT Consulting to businesses of all sizes since 1998. Their technology services integrate the industry's best technologies for each customer's specific need and back it up with industry leading support.
Because Computer Support of San Diego is a vendor-neutral resource, they are able to recommend best of breed technologies and solutions that have a proven track record, both as an entire solution and working in the context of each customer's business. Computer Support of San Diego IT Consultants have provided consulting services to hundreds of San Diego businesses. Some of these consulting services have included virtualization/consolidation assessments, business continuity (BC), disaster recovery (DR) planning, ITIL consulting and process improvement, data center optimization, data protection and storage assessments, as well as other IT strategic planning services. Computer Support of San Diego has saved customers millions in IT capital expenditures and process efficiency.
Computer Support of San Diego is also a leading provider of Hosted VOIP PBX systems. Although there are many aspects of this service that set Computer Support of San Diego apart from the competition, two notable aspects include the use of in house Network Engineering Services and the fact that the Hosted VOIP PBX system run Microsoft Windows Server. Computer Support of San Diego welcomes customers to discover the advantages of a Microsoft Windows based Hosted VOIP PBX
This Hosted VOIP PBX is a software-based IP PBX that replaces traditional proprietary hardware PBX / PABX. Developed specifically for Microsoft Windows and based on the SIP standard – this solution makes it easier to manage and allows customers to use any SIP phone (software or hardware).
About Computer Support of San Diego
Computer Support of San Diego is a leading provider of San Diego IT Support and IT Solutions geared for small and medium businesses. By creating end to end solutions for our customers, we remove the risk and expense of the traditional piecemeal approach. Our solutions leverage cloud computing, high performance network and the latest virtualization technologies. Visit the website at http://www.computersupportsandiego.com to see how we can help technology transform your business.
For media inquiries, please contact Sarah Butterworth at 858.384.0985 or via email at sarah(at)supportsd(dot)com.
###