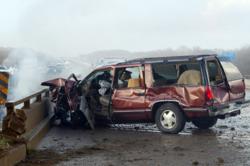 San Diego, California (PRWEB) December 31, 2011
San Diego Life Insurance and Business Life Insurance Agency Grant, Hinkle and Jacobs encourages everyone to stay safe on the roads during New Years eve. New Year's Eve is a great time to celebrate with family and friends, but Grant, Hinkle and Jacobs reminds everyone to celebrate responsibly and to be alert for other motorists who may be driving under the influence of alcohol.
More than 10,000 people were killed in alcohol-related crashes last year, according to the National Highway Traffic Safety Administration. In fact, accidents involving alcohol-impaired motorists account for one in three deaths on American roadways each year.
"Motorists who drive while under the influence of drugs and alcohol put themselves and others at risk of death or serious injury," said David Jacobs, Partner with Grant, Hinkle and Jacobs. "Motorists arrested for driving while impaired also face serious consequences, including loss of license, fines and even jail time."
That's why it's important to never drink and drive, Jacobs said. "If you plan to celebrate with family and friends, make sure to have a designated driver. If you don't have a designated driver, call a taxi or friend to bring you home."
Even people who haven't been drinking need to be alert on the roadways, especially on a night like New Year's Eve, when lots of people will be attending parties, Jacobs said.
"Allow extra distance between your car and others, especially if you see a car that is weaving or moving erratically," Jacobs said. "If you suspect someone is driving while impaired, take down the license plate and call the police as soon as it is safe to do so."
Here are a few other tips for getting around safely on Near Year's Eve:
Always buckle up.
Obey all motor vehicle laws.
Never text while driving.
Pay attention to road and weather conditions.
Be patient and allow extra time for delays.
"If you're hosting a New Year's Eve party or any celebration, remember to be a responsible party host," Jacobs said. "Don't allow anyone to drive while impaired. If you suspect someone shouldn't be driving, take his or her keys and arrange for a safe ride home or a safe place to stay."
Everyone plays a role in keeping the roads safe, on New Year's Eve and every day, Jacobs said.
About Grant, Hinkle and Jacobs
Grant, Hinkle and Jacobs is second generation firm focused on delivering Life Insurance Services, Asset Protection, Wealth Transfer Planning and Business Succession Planning. With their long successful history of delivering services the Partners and staff at Grant, Hinkle and Jacobs have become known for their ability to deliver the absolute best solutions for wealthy families, business owners and planning professionals. With a rare combination of Law Degrees, Certified Financial Planner designations and deep understanding of complex Taxation and Business laws and operations, GHJ is ready and able to serve their customers with proven qualifications and expertise, backed by industry leading customer service. To learn more about Grant, Hinkle and Jacobs, please call 858-350-4000 or visit http://www.ghjinsurance.com. Local customers can also stop their San Diego office at;
Grant, Hinkle and Jacobs
462 Stevens Avenue, Suite 302
Solana Beach, California 92075
###