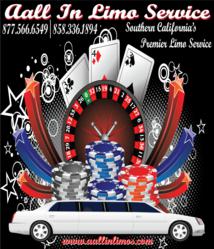 Temecula, Ca (PRWEB) May 16, 2012
Temecula Valley will be hosting A Salute to Corporal Juan Dominguez, May 25, at the Monte De Oro Winery. The event will feature spectacular wines from 24-30 Temecula Valley wineries; food from 15-20 restaurants; live and silent auctions; and entertainment from The Brewer Boys, the Little Lies Band, Ashley Krouse and Cougarzz Rock.
Proceeds from the event will benefit Corporal Juan Dominguez, a 27-year-old, who lost both legs and his right arm in Afghanistan. Dominguez would like to live in Temecula with his 9 year-old daughter and start a foundation to help other veterans.
The event will be held May 25 from 6 p.m. – 9 p.m.
San Diego limo company Aall In Limo Service supports the event. The limo company features Temecula limo wine tours and is a proud supporter of the local wineries and our veterans.
To learn more about the event, or to purchase tickets, click here.
About Aall In Limo Service, LLC
Aall In Limo Service, LLC is a premiere San Diego limo company, dedicated to providing professional and friendly customer service at an affordable price. Aall In Limo Service, LLC strives to provide high quality transportation services for people throughout San Diego County.