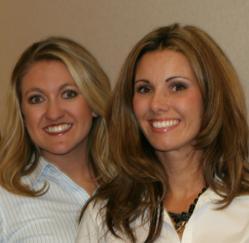 Amber and Jenna add energy, excitement and expertise to our team. We will now have fluent French, Spanish and English in the office full time.
San Diego, CA (PRWEB) July 31, 2012
Dr. Steve Laverson, a San Diego Plastic Surgeon for 20 years, is growing the capabilities of his well known Feel Beautiful Clinic to satisfy an increasing demand for Plastic Surgery and related beauty services in Southern California. Ms. Amber Zanutto will manage customer service and Ms. Jenna Johnson will manage communications and patient education.
A recent study by the American Society for Aesthetic Plastic Surgery (ASAPS) suggests overall demand for plastic surgery has increased 197 percent since 1997. In 2011, approximately 9.2 billion cosmetic surgical and nonsurgical procedures were performed in the U.S. Dr. Laverson has experienced a significant increase at his San Diego practice and is growing his team so he can continue to provide high quality plastic surgery care for his patients.
"We're performing progressively more complex and individualized cosmetic procedures that must be explained in understandable terms. The sophisticated clientele seen at Feel Beautiful deserve the five star service they're accustomed to," said Dr. Laverson. "Multi-dimensional customer support is an essential component of a quality experience during the transformative process of plastic surgery. Likewise, these procedures must be understood by all patients in advance, regardless of their cultural or language background. Technical details, alternatives and expected recovery must be explained clearly. Communication and customer service are important elements that I no longer have enough time or expertise to thoroughly handle, so these functions will be delegated to Amber and Jenna under my supervision. Amber and Jenna add energy, excitement and expertise to our team. We will now have fluent French, Spanish and English in the office full time."
As Executive Service Specialist, Amber Zanutto will personalize care beginning at the initial meeting with Dr. Laverson through complete recovery. Functioning as a surgical concierge, Amber manages scheduling needs, financial transactions and special arrangements for both local and out of town patients. A mother of two, Amber has operated her own customer service business in the past. She was practice administrator in a large primary care organization, and has had positions of responsibility in the front and back offices of many physicians and surgeons for 15 years.
"Seeing the improvements patients' realize after their surgery and how excited they are is priceless," Amber said.
Jenna Johnson, a recent Business Administration honors graduate of California State University San Marcos, brings advanced communications capabilities to Feel Beautiful, including expertise in social network marketing, video production, writing and graphic design. Jenna has a reputation for organized system development and project completion within temporal and budget requirements. She will be responsible for patient teaching, event planning and information management at Feel Beautiful.
"My passion is for helping people," Jenna said. "It's exciting to work with Dr. Laverson because he really cares about his patients; he enhances their natural beauty, builds their confidence, and helps them create a new beginning."
With a private practice located in Encinitas, CA, Dr. Steve Laverson specializes in aesthetic plastic surgery of the face, breast and body. He is a diplomate of the American Board of Surgery, the American Board of Plastic Surgery, an active member of the American Society of Plastic Surgeons, the American Society of Aesthetic Plastic Surgeons, and a Fellow of the American College of Surgeons. On staff at North San Diego County Hospitals, his web address is http://www.feelbeautiful.com.