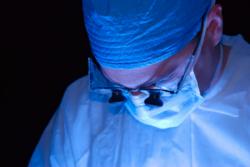 New hospital will provide a righteous temple for the spiritual work of healing
San Diego, CA (PRWEB) May 15, 2012
This year's Night of Nights™ initiates grand opening festivities for the new Palomar Hospital. The event will be hosted by former San Diego Chargers running back LaDainian Tomlinson and his wife Torsha. Former San Diego Chargers Hall of Fame quarterback Dan Fouts will be Master of Ceremonies.
The program includes cocktails, silent and live auctions, dinner, dancing, and entertainment by comedian Larry Miller, a longtime friend and opening act for Jerry Seinfeld. Miller has appeared in more than 100 films and TV shows.
Dr. Steve Laverson, a Plastic Surgeon in San Diego, has performed thousands of procedures for insured and uninsured patients during the past 20 years at Palomar, an American College of Surgeons Level II trauma center.
Laverson quotes Mother Teresa, who said "Hands that heal are more sacred than lips that pray," and says that Palomar, a District Hospital, will provide "a righteous temple for the spiritual work of healing." During his two decades of staff tenure at the old hospital, Dr. Laverson observes what sets Palomar apart is a "strong sentiment of humanity, giving and unpretentiousness, even among highly respected and accomplished physicians, surgeons, and staff."
Located at the intersection of major Freeways SR-78 and I-5 in Escondido, CA, the new Palomar Hospital is 11 stories tall, 740,000 square feet, has 50 emergency and trauma rooms, 12 operating rooms, 17 elevators, and a 1.5 acre "green" roof. Designed to meet the demands of rapidly evolving information technology for health care safety and efficiency, the building has over 5 million feet of electrical cable and fiber optics. The facility is designed for expansion with the growing local community, and for accommodation of future technologies and innovations. Sophisticated architecture allows natural daylight into work areas deep within the building.
Dr. Steve Laverson, Diplomate of the American Board of Plastic Surgery, specializes in aesthetic and reconstructive surgery of the face, breast, and body. His private clinic, Feel Beautiful Plastic Surgery is located in coastal North San Diego County, and is known for high standards and naturally beautiful plastic surgery results.
San Diego plastic surgeon, Dr. Laverson, an innovator in abdominoplasty and other procedures, is a member of the American Society of Plastic Surgeons and the American Society of Aesthetic Plastic Surgeons.
To learn more about the event, or to register for tickets, please visit Palomar Health. Individual tickets are $400.