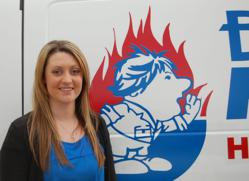 Once you meet with Cassie, it is clear that she is the perfect choice for business relations and development. - Tina Howe
San Diego, CA (PRWEB) February 25, 2013
Bill Howe Plumbing has signed on their second Business Development Account Manager for the company. The San Diego plumber has the recipe for success, having built a household name in the community, and that success is based on the services the Bill Howe Family of Companies is able to offer. Beginning with one truck in 1980 and growing to over 60 trucks across three divisions, Bill and Tina Howe have grown the company with a solid foundation of quality care for their customers, from start to finish, making them the number one priority.
Part of the "customers as priority" mission is in the personalized services Bill Howe Plumbing has been offering since opening their doors in 1980. Having a dedicated account division to see to the varied needs of business-owners, apartment managers, property management companies and homeowners with rental properties is paramount to succeeding in meeting standards in the industry. Cassie Weinhold will join current Business Development Manager, Jessica Kalloch, in maintaining and extending Bill Howe Plumbing's complete customer care package.
Cassie's background is in psychology, which gives her an advantage with the unique ability to understand human relationships. With her training, she will further the trust and confidence in the local San Diego plumber. The business development department allows customers a higher level of communication. By having two dedicated representatives, companies and property owners can build a personal relationship with the Bill Howe Family of Companies and have at their disposal all the means to provide their own clients with the best services available. Clients know they can rely on Bill Howe to deliver top-notch service and eliminate the worry of subpar service companies attending to their properties.
Cassie is well versed in customer relations. She put herself through school at San Diego State University while working at the Catamaran Resort & Spa in Pacific Beach. "I am excited to develop a lasting trust with our existing clients, while reaching out to new clients in the community," says Cassie. "I enjoy making people feel comfortable and at ease. I look forward to responding to all of the needs of our clientele and continuing to deliver the highest level of quality services in San Diego heating and air, and plumbing services."
"Once you meet with Cassie, it is clear that she is the perfect choice for business relations and development," says Tina Howe, Vice President of the Bill Howe Family of Companies. "She is genuine and instills the faith and dedication that our customers rely on; she will see to all of their needs so they know they are important to us. We look forward to introducing her to our community and further providing San Diego with the absolute in customer care."
For more information about the San Diego plumber and his implementation of successful business practices or to learn more about the Bill Howe Family of Companies, visit http://www.billhowe.com, or contact Bill Howe Marketing Director, Julie Riddle at Julie(at)billhowe(dot)com.
About Bill Howe Family of Companies
Bill Howe Family of Companies is comprised of Bill Howe Plumbing, Inc.; Bill Howe Heating & Air Conditioning, Inc.; Bill Howe Restoration & Flood Services, Inc. The family-owned and operated company began in 1980 with the plumbing division and has grown into San Diego County's largest low-cost one-stop-shop for service, repairs and installation, offering both residential and commercial services. 9085 Aero Drive, Suite B, San Diego CA 92123. Call 1-800-BILL-HOWE because We Know Howe!
###