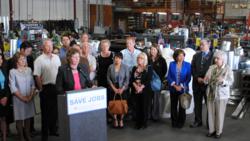 The Enterprise Zone creates new jobs in a time when our city, county and state still struggle with high unemployment. Enterprise Zones are an important tool to help maintain economic growth - Mayor Cheryl Cox
Chula Vista, CA (PRWEB) June 06, 2013
Representatives from the cities of Chula Vista, San Diego and National City, along with representatives from the Port of San Diego, South County Economic Development Council and local businesses today came together to express concerns with the Governor's May Budget Revise and legislation that threatens local job creation and effectively eliminates California's Enterprise Zone program.
From the factory floor of Plenums Plus, a Chula Vista-based sheet metal fabrication business, Mayor Cheryl Cox said, "The Enterprise Zone creates new jobs in a time when our city, county and state still struggle with high unemployment. Enterprise Zones are an important tool to help maintain economic growth. By offering an incentive for businesses to open in our communities, we are not only creating and protecting jobs, we are making our region more competitive through increased investment."
Mayor Cox was joined by National City Mayor Ron Morrison San Diego Councilmember Mark Kersey, Port of San Diego Commissioner Robert "Dukie" Valderrama, and South County Economic Development Council CEO Cindy Gompper-Graves.
"I understand the need to make legitimate improvements to this program, but as someone who has seen first-hand the good that Enterprise Zones can achieve in disadvantaged communities, we desperately need to keep this important program," said Morrison. "Our lawmakers should be working together to develop effective reform that ensures continued support for California businesses willing to invest in economically depressed areas, hire local residents, and help underserved communities."
Last year, more than 2,300 new jobs were created within the San Diego Regional Enterprise Zone and more than 7,000 were retained. Plenums Plus is just one of the nearly 600 San Diego companies that have been able to hire additional employees and reinvest in their companies due the effective tax incentives.
"The Enterprise Zone Program is one of the few incentives that we have in our business expansion, attraction, and retention arsenal," said Kersey. "We can't afford to gamble with a program that we know creates jobs."
As a result of Enterprise Zones, over $1.7 billion worth of capital investment has been made within the San Diego Enterprise Zone region, more than 40,000 jobs were created between 2006 to 2012 and thousands of businesses received technical, financial and permit expediting assistance, no-cost job referral services, as well as tax savings for qualifying Enterprise Zone businesses.
"As the voice for business in the South County of San Diego we are standing up for businesses impacted by Enterprise Zones," said Gompper-Graves. "I can personally speak to the necessity of Enterprise Zones, which have helped many of our companies, and allowed their employees to obtain financial security. Enterprise Zones are good for business, good for hard-working families and they're good for California. For that reason we are willing to work with the Governor."
Visit the San Diego Regional Enterprise Zone website for more information.
The day's event was planned in partnership with Californians to Improve Enterprise, Employment and the Economy, a coalition of workers, business owners and California residents concerned about attacks on Enterprise Zones.
About the City of Chula Vista
The City of Chula Vista is located at the center of one of the richest cultural, economic and environmentally diverse zones in the United States. It is the second-largest City in San Diego County with a population of nearly 250,000. Chula Vista boasts more than 50 square miles of coastal landscape, canyons, rolling hills, mountains, and a variety of natural resources and quality infrastructure. Established neighborhoods, contemporary communities, start-up firms, corporations, nationally recognized entertainment venues, the nation's only warm weather Olympic Training Center, an award winning nature center and a historic downtown all contribute to Chula Vista's attraction for both families and businesses.