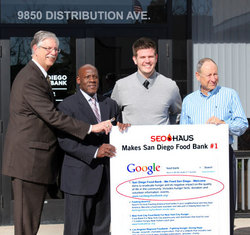 We are very grateful to SEOhaus for this amazing service.
San Diego, CA (PRWEB) February 3, 2011
SEOhaus successfully improved the online visibility and donations of the San Diego Food Bank with a new type of website marketing strategy. SEOhaus, a Search Engine Optimization (SEO) company servicing over 200 clients internationally, positioned the SD Food Bank website on all top four (4) positions of Google for the keyword "food bank", the most coveted term of their industry. This saturates their exposure online for this key phrase and helps make them a brand leader. This rare and impressive Google placement significantly increases the donations to the non-profit organization.
San Diego Food Bank Chairman "Mitch" Mitchell said, "We are very grateful to SEOhaus for this amazing (website) service. By dramatically increasing our visibility on Internet search engines, it is now easier for our clients, stakeholders and potential donors to find us online. We are appreciative to the SEOhaus team for their time and talent helping the San Diego Food Bank."
The public can now find the San Diego Food Bank more easily online. When a prospective donor visits Google on the Internet, they can type in keywords like "Food Bank" and find the San Diego Food Bank website on the top of this list. This makes it quicker for new and veteran donors to give to this worthy cause.
SEOhaus has also helped other charities increase donations with SEO services. In 2007, SEOhaus helped Ronald McDonald House Charities in San Diego raise over 2 million dollars with similar types of Internet marketing services. In addition to Google Placement, SEOhaus help RMHC increase donations with email marketing. The combination of both services helped surpass their donation goal.
SEOhaus helps charities and businesses get on top of Google. This strategy, known as SEO, is a new form of marketing and a fast growing promotional strategy for US companies. Will Senn, CMO of SEOhaus, says, "We are excited to help charities reach their fund raising goals with our website services. Instead of just donating money, we thought it would be beneficial to also give our time and generate even more donations to the website of non-profit organizations".
SEOhaus LLC
Since 2000, SEOhaus LLC, located in San Diego, CA, is a private company specializing in organic SEO. Many businesses worldwide rely on SEOhaus to improve their Google positioning and website sales volume. Visit http://www.SEOhaus.com for more information about their SEO services.
# # #