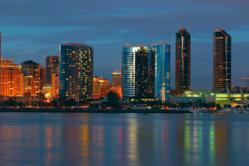 San Diego, California (PRWEB) December 17, 2011
MarketTarget, a leading provider of San Diego SEO Services, San Diego SEM Services and Phoenix SEO Services announced today special pricing for Las Vegas SEO, San Francisco SEO and Los Angeles SEO. This offer applies to Social Media Marketing, Search Engine Optimization, Local Search Optimization and other service offerings.
More businesses are finding that targeted SEO for local markets offers the greatest return for investment, especially in highly competitive niches. The MarketTarget approach for Local Search Optimization covers the follow six steps;
Step 1 - Conducting Research on the Current Performance of the Website
The first step in MarketTarget's local SEO campaign is to carry out an in depth analysis of the performance of the website. This will help us to plan the later stages of the campaign. Here, we study the inbound links and search engine rankings of the website along with the type of traffic the website is enjoying. The current local presence of the website is also evaluated. A preliminary report is prepared on the gathered data which is considered as a guide to gauge the success of the campaign. In this phase, customers will also see MarketTarget carrying out a research for keywords that are relevant to the customer's business.
Step 2 - Planning the Strategy
The next phase includes professionals at MarketTarget laying out the campaign. Here, customers can choose to get their campaign customized or settle for a basic SEO campaign. If customers have already chosen MarketTarget for SEO services, then they can easily add local PPC (Pay Per Click) or link building services.
Step 3 - Submit Website to Local and Nationwide Directories to Build More Links
One positive way to increase a website's rankling is to earn as many number of quality inbound deep links as possible. This can easily be done by submitting the website to local directories and search engines as well as nationwide directories. MarketTarget takes care of this by manually submitting the website to over 200 directories. MarketTarget also make submissions in the top 20 local search engines and directories which include Google Local, Local.com, Yahoo!, Yelp, Kazoo, etc.
Step 4 - Opt for a GEO Targeted PPC Campaign by Web Ranking SEO
Choosing a GEO targeted PPC campaign can be far more profitable to attract substantial amount of local traffic. Doing this will help customers to separate the paid traffic on the basis of location. The team at MarketTarget keeps this factor in mind while designing PPC ads in such a way that it not only appears eye catching but also include the right keywords to capture the attention of the reader.
Step 5 - Get The Website Optimized
At times, little tweaks in the website can get effective results. MarketTarget offers website optimization as a part of local SEO campaigns. This consists of adding content, updating old content with new findings made after keyword research, and including local terms to capture the attention of GEO targeted visitors. MarketTarget may also suggest revisions in headers and footers, meta tags and changes in the internal linking system. However, these are temporary in nature and are done from time to time as per the website's performance.
Step 6 - Keep Track Through Monthly Reports
If customers choose MarketTarget's services, they will be able to measure the results of each site's progress and the success of each campaign through monthly reports. These reports will highlight the changes noted in the number of inbound links, search engine rankings and the quality of traffic each site is gaining. Any positive or negative results indicated in the report in relation to the campaign, will be handled quickly and a change in planning will follow. Reviewing analytics and a study of the search engine performances will guide in making each campaign better so that customers can earn high profits from the website. Thus, it proves the importance of local search optimization in gaining GEO targeted traffic to websites and guaranteeing good local online presence
About MarketTarget
Since 2009, MarketTarget (http://www.markettarget.com) has been a leading provider of San Diego Search Engine Optimization and San Diego Search Engine Marketing services. As a full service San Diego SEO services firm, MarketTarget also offers full service web marketing, SEO consulting services and custom SEO training options for its clients. What makes MarketTarget unique involves several key factors: Personal Service, Reasonable Costs & ROI Focus. MarketTarget offers many great free SEO resources, including SEO white papers and a helpful SEO Newsletter. Please visit http://www.markettarget.com for more information or call 877-828-0196.
###