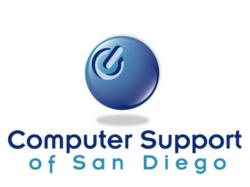 San Diego, California (PRWEB) November 05, 2011
Computer Support of San Diego, a leading provider of Hosted VoIP PBX services and San Diego IT Consulting announced today special pricing on San Diego Hosted VoIP PBX services. From now until the end of 2011, Computer Support of San Diego is offering a 50% discount on VoIP services for both new and existing customers.
With a hosted VoIP PBX from Computer Support of San Diego, customers get a unique phone number which rings to their personal auto attendant. This professional-sounding message directs callers throughout the phone tree and connects them to the appropriate employees using sophisticated call distribution. Complete with system features like call queue, custom hold music, and 3-way calling, a Computer Support of San Diego hosted VoIP PBX can make a lasting impression on callers and inspire customer confidence.
Computer Support of San Diego allows customers to stay ahead with Hosted VoIP PBX services. VoIP service is constantly moving forward and the key to staying ahead is to have access to the latest phone system features as soon they are available, at little or no additional cost. Computer Support of San Diego is committed to consistently upgrading the Hosted VoIP PBX experience, which allows customers to be freed from the burden of special maintenance and system upgrades. Computer Support of San Diego keeps customers on top of the latest developments in VoIP PBX technology with the following included features
Dynamic Auto Attendant
-Advanced ACD & Call Queue
-Salesforce & Outlook Integration
-Visual Call Reports
-Internet Control Panel
-Recorded Calls
-Softphone Software
-Traditional PBX Features
About Computer Support of San Diego
Computer Support of San Diego is a leading provider of San Diego IT Support and IT Solutions geared for small and medium businesses. By creating end to end solutions for our customers, we remove the risk and expense of the traditional piecemeal approach. Our solutions leverage cloud computing, high performance network and the latest virtualization technologies. Visit the website at http://www.computersupportsandiego.com to download our newest whitepaper on how we can help technology transform your business.
To learn more please call us at 858.384.0989 or via email at info(at)computersupportsandiego(dot)com.
###