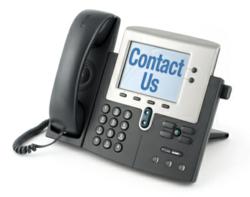 San Diego, California (PRWEB) December 12, 2011
Computer Support of San Diego, a leading provider of San Diego Hosted Voip and San Diego Hosted PBX services announced they will release weekly video blogs on their YouTube channel, describing important Business VoIP industry and technology details, as well as reviewing business VoIP service providers.
Computer Support of San Diego provides valuable VoIP service information specifically tailored to small businesses, focusing on how VoIP can benefit the inner workings of small business operations. Previously, VoIP technology had a difficult time finding its way into the small business sector. The technology of the past didn't fit with the needs of small businesses. Larger corporations have been able to take advantage of the flexibility of business VoIP for years, but it's finally making itself available to more small business opportunities and corporations.
"Business VOIP is not only a more flexible telephony communications option, but it's also a more affordable one for small businesses," states Tim Doscher, CTO of Computer Support of San Diego in his announcement today on releasing his weekly updates on his YouTube channel.
Computer Support of San Diego's website has information regarding the ins and outs of business VoIP technology, including provider reviews and in depth information on companies providing business VoIP services. There is also information on how to set up a business VoIP solution in your business.
Between the website and the new weekly YouTube updates, anyone looking for help or information regarding business VoIP solutions won't have to travel anywhere else in search of information.
Computer Support of San Diego's goal of making an online repository of information on business VoIP capabilities and solutions is quickly coming to fruition. The information is pertinent and relevant, and extremely helpful in answering any questions people may have about business VoIP.
"No longer does business VoIP get to be enjoyed solely by larger corporations. If anyone needs to save money, it's America's small businesses" stated the spokesperson for Computer Support of San Diego. "The weekly updates on our YouTube channel will put a face to the name too; giving you a place you can trust for information on business VoIP".
Coupled with ongoing and frequent updates and a heavy knowledge base, Computer Support of San Diego is the place to go for definitive business VoIP information and technology updates. The website provides the freshest and most pertinent information on the Internet about business VOIP solutions, systems, and San Diego Voip Services.
About Computer Support of San Diego:
Computer Support of San Diego provides live support via telephone or through the Internet 24 hours a day, 7 days a week. Customers can speak to a local employee here in the US if you have a problem. Computer Support of San Diego can fix most problems remotely, so that customers can be back up and running without having to wait for a technician to come to a customer's office. Computer Support of San Diego can help with server, desktop and network issues. For immediate emergencies their engineering staff is available to respond by emailing support(at)supportsd(dot)com or by calling 858-384-0981.
###