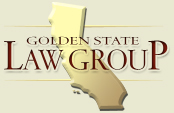 The San Diego bankruptcy lawyers at the Golden State Law Group find the results of this survey troubling...
San Diego, CA (PRWEB) April 25, 2013
The San Diego bankruptcy attorneys at the Golden State Law Group represent consumers and businesses that have encountered serious financial difficulties. The firm helps clients navigate their way through bankruptcy cases filed under Chapters 7, 11 and 13 of the United States bankruptcy code as well as helping clients deal with tax debt problems. The attorneys at the firm would like to respond to the results of a survey conducted by the Credit Union National Association, or CUNA, regarding the level of knowledge possessed by high school students regarding student loans.
The CUNA survey at issue is known as the first annual High School Student Borrowing Survey, and in the survey the researchers asked 847 students who are 17 and 18 years old and who are currently still in high school and considering continuing their education into college about student loans. There were several results that were measured, and all of them indicated that people in this position tend to lack knowledge regarding the realities of borrowing to fund higher education.
For instance, the results of the survey revealed that half of all of the respondents did not know how much they would owe after they completed their education, despite the fact that only 20 percent of the respondents stated that their parents would pay these costs for them. In addition, 83 percent of the respondents did not know what interest rate they would pay for these student loans nor did they have an understanding of how long it would take to pay off these balances.
Approximately 60 percent of the respondents stated that they did not know if they would need to take out one or multiple student loans to pay for their educations, but 80 percent indicated that they considered borrowing to pay for higher education a normal step for someone to take. The researchers went on to point out that the class of 2011 graduated owing an average of $26,600 in student loan debt.
The San Diego bankruptcy lawyers at the Golden State Law Group find the results of this survey troubling, as it indicates that not enough people who are going to take out student loans are aware of the true nature of these obligations. Student loan debt is generally not a type of debt that can be discharged in a bankruptcy case in the absence of relatively rare circumstances.
Anyone who is struggling with this type of debt is encouraged to contact the firm to schedule a free initial consultation. The purpose of this consultation will be to conduct a thorough review of that person's overall financial picture in hopes that a strategy can be uncovered that will lead to some form of financial relief.
About the Golden State Law Group
The Golden State Law Group is a law firm in San Diego, California that's comprised of a team of San Diego bankruptcy attorneys who provide legal help to consumers and businesses. Specifically, the attorneys at the firm provide help to consumers in the legal areas relating to financial problems including student loan debt problems, credit card debt, medical bill issues, consumer bankruptcy, business bankruptcy, tax debt issues and personal injury cases.