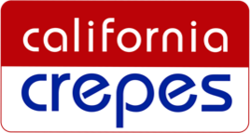 California Crepes was the perfect solution for our catering needs.
San Diego, California (PRWEB) December 04, 2012
California Crepes (http://www.calicrepes.com), the well-known San Diego based provider of catering services that specializes in crepes, has a surprise in store for its clients. During the coming holiday season, the company is making their famous varieties of crepes even more affordable for customers simply by presenting the coupon.
California Crepes specializes in catering for medium and large events as well such as weddings and corporate gatherings. Therefore, the SweetHolidays10 coupon can provide incredible savings for clients who employ the services of the company for a wedding, or a corporate meeting and even holiday family gatherings as well as any other event they have planned. At the same time, these coupons make a great bonus for people who regularly dine at their food outlet.
California Crepes is one of the most appreciated crêperies in San Diego, California, mainly due to their exquisite assortment of delicious crepes suitable for all occasions as well as their professional grade personnel and services. The sweet crepes for which the discount coupon applies include Bakersfield, Del Mar, Big Bear, Long Beach, Carlsbad, Pasadena and many, many more. Furthermore, the generous holiday price cut comes to "sweeten" an already excellent deal, because the menus of this catering service are already more than affordable.
And, if you take into account that virtually all customer testimonials praise the cooking/service skills of the staff, there is no way San Diego residents could refuse such an offer. There are many happy customers supporting this accomplished catering joint, for instance, organizers of the Dani Dodge event commented that "California Crepes was the perfect solution for our catering needs."
The discount is not the only reason why this San Diego catering service becomes so inviting during this time of year. With more and more moms and dads working this holiday season, family time is too often neglected. Instead of skipping this season's holiday dinner, families should consider catering. California Crepes provides unprecedented quality of food and service, so your family and friends are sure to fall in love with their delightful array of both sweet and savory crepes.
You can find California Crepes at the San Diego Gaslamp district at 522 Horton Plaza. Restaurant hours are 10:00am to 8:00pm, Monday through Saturday, and 11:00am to 6:00pm on Sundays. The menu offers sweet crepes, savory crepes, and breakfast crepes.