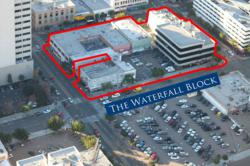 San Francisco, CA (PRWEB) October 06, 2012
The Waterfall Block consists of an eight-property portfolio of distressed assets encompassing 58,288 square feet in downtown San Diego. The portfolio included retail, office, mixed-use and SRO residential located a few blocks off the historic Gas Lamp District.
According to Slaugh, "The previous owner acquired this portfolio over a 3-year period, and paid $33m with the intention to develop hi-rise residential. When the market crashed, feasibility for the completion of a $130m hi-rise diminished substantially and the developer was forced to sell the asset well below the underlying debt."
Steelhead Capital worked with the new developer who acquired the asset for $13m to finance the project for redevelopment and was able to obtain a 3-year bridge redevelopment commercial loan through a mortgage REIT. The loan is non-recourse and represented 85% loan to cost.
Peter Slaugh founded Steelhead Capital – a San Francisco-based commercial mortgage banking platform – in 1998. Prior to founding Steelhead Capital, Mr. Slaugh originated commercial loan transactions for all property types at GMAC Commercial Mortgage.
Over the last decade, Mr. Slaugh has originated well in excess of $3 billion in commercial real estate debt, mezz debt and equity transactions. His extensive knowledge of the capital markets significantly enhances the his clients' ability to aggressively leverage acquisition and renovation costs in order to maximize investor returns.
About Steelhead Capital:
Since 1998, Steelhead Capital, Inc. has been a premier provider of apartment loans, commercial financing solutions, and advisory services for commercial real estate investors. Steelhead Capital brings an extensive network of lending sources, structured finance experience with a focus on acquisitions, and a clear commitment to personalized customer service to investors financing properties in any of the 50 states.
For additional information about Steelhead Capital or to submit a commercial loan request, please contact Peter Slaugh or visit SteelheadCapital.com.