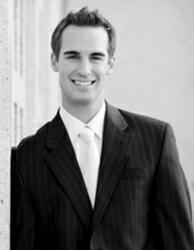 People in the legal community are referring more and more cases to me as they see the results I am getting for my clients."
-Bradley R. Corbett
VISTA, Calif. (PRWEB) October 24, 2012
Serving the needs of a growing clientele in the Greater San Diego area comes first for San Diego DUI attorney s at the Law Offices of Bradley R. Corbett. To that end, the criminal defense practice of Bradley R. Corbett announces its relocation to new office space in Vista, CA.
The new location is at 620 S. Melrose Drive in Vista. The office offers clients an easy-to-locate setting in which to meet with a Bradley R. Corbett attorney. It is conveniently located off the Ronald Packard Parkway, across the street from the courthouse and near local restaurants and bail bonds offices. Plus, plenty of free parking can be found on site.
In what can be a time of stress and anxiety for clients, they can relax in the peaceful and inviting new waiting room, complete with leather furnishings and hardwood floors. With more than 1,600 square feet of space, clients also can feel confident that they are discussing the most sensitive details of a case in private. "We were given a great opportunity to relocate," said Bradley Corbett. "The building is beautiful and state of the art."
With one office already established in the heart of San Diego at 7676 Hazard Center Drive, the new office in Vista provides the legal team with ample room to grow. "People in the legal community are referring more and more cases to me as they see the results I am getting for my clients," said Corbett. "We are looking to expand as opportunities arise."
Even those who live outside of California may need the services of an attorney who specializes in San Diego DUI cases. One client found himself in this situation. He said, "I called Mr. Corbetts office at 11pm I was arrested for DUI (not my proudest moment) and spoke to Tom who answered the phone and walked me through the process. I live out of state and the next day I retained their office and my license is very important to me and they had their own DMV representative as well as Mr. Corbett handling my case personally. I really like the fact that they give you their cell phone numbers and the customer service has been great. This is my first time ever needing an attorney and my case was dropped down and I never had to go to any of the court proceedings..."
When charged with a crime, choosing an experienced criminal defense attorney that knows the intricacies of California law is important. It can mean the difference between living a normal life and facing a conviction that can curtail one's freedom and affect one's family and job. The Bradley R. Corbett team understands how stressful and overwhelming being charged with a crime can be. They fight for a client's rights and attempt to ensure the best possible outcome for each client.
About The Law Office of Bradley R. Corbett
San Diego and now Vista California law attorneys at Bradley R. Corbett specialize in criminal defense law. Practice areas include but are not limited to assault, drugs and narcotics, DUI and DWI, robbery and juvenile crimes. Corbett himself has handled more than 500 cases, ranging from misdemeanor petty theft to felony manslaughter, and has been practicing as a San Diego criminal defense lawyer for almost five years.
Learn more about the criminal defense lawyers that are part of the Law Offices of Bradley R. Corbett as well as set up a free case consultation with one at http://www.bradleycorbettlaw.com.