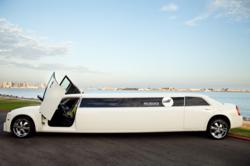 "Luxx Limousines prides itself in participating in any event where we could help our fellow San Diegans as much as possible" said Luxx Founder Pouria Parsa
San Diego, CA (PRWEB) December 12, 2012
Luxx Limo, a San Diego, California based Limousine Company, recently sponsored two thousand dollars' worth of limousine service for the benefit of Jammer Family Foundation. The recently concluded event aptly titled 'Jammin Under the Stars' was held at the private estate of Rich and Jennifer Enright to benefit the programs supported by the foundation.
As a local Limousine Company, Luxx Limo decided to give away two thousand dollars' worth of limo rides to the event's attendees. "Luxx Limousines prides itself in participating in any event where we could help our fellow San Diegans as much as possible. For the 'Jammin Under the Stars,' Luxx Limo provides $2,000-worth of limousine service, to make sure that the event's attendees will arrive (at the venue) safely and in style" says Pouria Parsa, owner of the Luxx San Diego Limo.
Luxx Limo is known for providing elite service and that is exactly what the company provided in the Jammin Under the Stars event. Each limousine service is packed with complimentary bottled water, ice and barware, as well as a professional staff and chauffeur that makes sure every attendee's needs are being met.
Jammin Under the Stars was organized by San Diego Charger Quentin Jammer, JFF Executive Director Rob Powell, JFF board member Jolane Crawford of Schubach Aviation, and was hosted by the Enrights. Top San Diego chefs Dinners by David, Stone Catering, Dolce Pane E Vino, Snake Oil Cocktail Co., Country Wine and Spirits Toast, and Campine also provided catering services, making sure that everyone was well-fed and having a great time. Aside from Luxx Limo, the event was also sponsored by CanWe Studios, Le Dimora, Schubach Aviation, Wilsey Asset Management, TaylorMade, and Valenti International, to name a few. The evening's festivities also included unique silent and live auction items, golf skills challenge, casino gaming, entertainment and dancing.
"At Luxx Limo, we believe that experience is what makes an event more memorable. In a special event like Jammin Under the Stars, we did not only provide the same high quality service we are known for, we also made sure that we give back to the city through our professional limousine service. After all, it's not the amount (of the donation) that matters, but the dedication and sincerity in helping others in the community," finishes Parsa.
About Luxx San Diego Limo:
Luxx Limousines is the premiere luxury limousine company in San Diego that offers personalized limo service for weddings, sporting events, proms, bar/bat mitzvah's, and other special events. Visit LuxxSanDiegoLimo.com for more details or call (619) 752-1979 for inquiries and consultation.