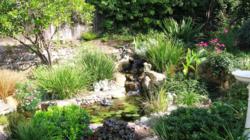 San Diego, CA (PRWEB) March 31, 2012
Ponds can brighten up a space, bring a sense of relaxation and tranquility to a home, and turn the simple into the extraordinary. Now that spring is here and homeowners begin to enjoy the great outdoors again, it's time to take care of ponds that are part of a serene landscape.
"Ponds and water features have had a long break from any kind of service," explains Shawn Ellison, owner of Pond~ology. "While ponds are quite beautiful and relaxing, they also need regular maintenance. The best time to clean out a pond is the early spring, before a pond awakens completely from its winter dormancy."
Homeowners can clean out a pond themselves if they have the necessary equipment. However, keep in mind that cleaning and refreshing a pond is a messy job performed in cold water, which is why many residents prefer to hire a professional.
Whether a homeowner chooses to tackle the project themselves or hire a service, they should keep the following steps in mind to prolong the life of the pond and its inhabitants:
Ponds need to be revived by cleaning out all the organic sludge, trimming plants, and refreshing the water.
As the fish become more active, it's important to ensure that equipment is functioning properly. This includes checking for any damage caused by winter weather.
Check visually on the health of fish.
Spring is also a good time to fertilize pond plants.
Pond~ology provides all the above services as part of their "Spring Clean Out" service. "We strive towards a healthy eco-system for fish and plants," says Shawn. "We test for unhealthy water conditions and perform the necessary work to correct any problems and return the pond to a safe place for fish to thrive and grow. Breathing new life into a pond and solving problems is our specialty."
This exceptional company looks out for their clients whether they need help choosing the right plants or fish, designing and building a pond, or adding a custom water feature. Owner Shawn Ellison is a hands-on business owner that knows all his clients personally and understands their needs and preferences.
For more information, please visit their website at http://www.pondology.com.
About Pond~ology
Pond~ology's services include pond design, building, and maintenance and water feature construction with the goal of creating beauty and harmony that inspire the soul and dazzle the senses. From conception to completion, Pond~ology is dedicated to bringing a homeowner's ideas and dreams to life. They are committed to the environment and build features that help conserve water and provide natural landscape designs. Their team has the experience and skills to provide quality design as well as a timely construction process. They serve all of North County San Diego including Del Mar, La Jolla, Rancho Santa Fe, Rancho Bernardo, Solana Beach, Vista, Encinitas, Scripps Ranch, La Costa, and Escondido.