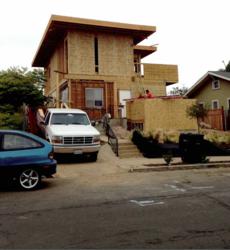 San Diego, CA (PRWEB) September 13, 2012
When adding on to a home, should a homeowner go up or out? It's a common question homeowners face when their house is undersized or lacks desired features and they don't want to move. Adding on to a house may be the solution, but should they add on horizontally or vertically?
Sometimes the only way to go is up. Although some experts feel that given a choice, it's wiser and less expensive to add on to the ground floor rather than building a second floor, some homeowners don't have that option because their lot is too small. Others don't want to give up certain advantages to a second story addition. For example, some parents want to put their kids upstairs with extra bedrooms and a playroom. Others are caring for aging parents who need a downstairs bedroom and want to add a master bedroom and bathroom upstairs for themselves.
"There are various reasons people want a second story addition," says Obie Sibug, owner of Bid Construction. "We've had people call whose lot was small or setbacks wouldn't allow for a ground floor addition, so they wanted to add a second floor to an existing house or add living space on top of their garage. Others don't want to lose yard space."
Some advantages to a second story addition include:
A second floor addition gives a homeowner the chance to enhance the interior of a home with a higher ceiling and dramatic staircase and improve the exterior appearance of a home.
More space can be added with a second story addition if the lot is small or other limitations exist such as local setback requirements.
If a homeowner has a specific need such as a nursery, an artist studio, a home theater, or a home office, adding a second story gives a homeowner complete freedom to design the spaces.
Whether adding on horizontally or vertically, construction projects are stressful and messy, but the payoff is huge. The house will be transformed into a home that is a perfect fit for a homeowner's lifestyle, taste, and budget and will increase value to the property. "The key to success is careful planning and having a realistic understanding of what the job entails," explains Obie. "There are several things a homeowner should consider when planning a second story addition."
For example, a homeowner must check city ordinances which vary greatly but typically dictate how much square footage can be added and allowable heights for houses. Second story additions usually require structural upgrades and like any extensive remodel, a homeowner may need to upgrade mechanical, electrical and plumbing systems. All these considerations make it extremely important to choose an experienced and qualified contractor that can foresee and guide a client through any complications. A qualified professional can also ensure the lines between the original structure and addition produce a seamless home.
Bid Construction is experienced in building second story additions, such as the one pictured here located in San Diego. They are well known for creating a homeowner's dreams while keeping costs down and updating the client every step of the way. By hiring the best, a homeowner will have a guarantee that their new master suite, game room, or home office is everything a homeowner imagined and more. Learn more about Bid Construction Inc dba Tritek Contractors.
About Bid Construction
Bid Construction, dba Tritek Contractors, provides quality construction, efficient project management, and unparalleled customer service. They specialize in additions, tenant improvements, new construction, renovations, sustainable construction, and REO services. Bid Construction serves San Diego County, including San Diego, Del Mar, Rancho Bernardo, Rancho Santa Fe, Carlsbad, Coronado, and Chula Vista in southern California.