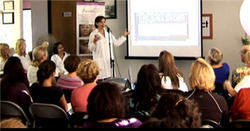 Ultra-fair skin is ideal for laser because the risks of post treatment pigmentation problems are practically nil. But, southern California residents are a big mix of ethnic backgrounds and if you aren't aware, you can get into trouble
La Jolla, CA (Vocus) October 4, 2010
Anti - Aging - it's quite a comprehensive term and one that Dr. Nasrin Mani is apt at explaining. In her popular educational series held throughout the year at her laser clinic in La Jolla, Ca., interested attendees watch a presentation designed to empower those who are contemplating cosmetic procedures and then can view demonstrations of selected procedures. A special focus is the need for patients to recognize that their genetic background plays a big part in the outcome of most procedures.
"Ultra-fair skin is ideal for laser because the risks of post treatment pigmentation problems are practically nil. But, southern California residents are a big mix of ethnic backgrounds and if you aren't aware, you can get into trouble" Dr. Mani shares.
"We have a large Hispanic and mixed background population in the San Diego area. These patients absolutely need to have a proper assessment prior to laser procedures because if they don't, they could get into big trouble on the other side of the laser work. Because the melanin cell count is high in Hispanic, Asian and Middle Eastern skin types, any heat based treatment must be carefully selected and applied.
Patience and preparation, especially with the "hot lasers" such as ActiveFX and DeepFX - and even the Fraxel Thulium - will reduce the incidence of post treatment hyper pigmentation. That's a definite unwelcome side effect. Post treatment hyper pigmentation is manageable, but if it can be prevented, that's always the first choice."
There's considerable confusion about the array of fillers, what they do, who they're for and how much one actually needs. When Dr. Mani shared with her visitors that a CC of filler actually is equivalent to 1/5 of a teaspoon, there was plenty of "really, that's all?" that came from the audience.
She went on to explain that most patients should plan on more than one syringe (usually 1 CC) when trying to manage wrinkles and folds. In the case of Sculptra, which is not a filler, but an injectable agent which prompts the skin to produce its own new layers of collagen, the product is packaged not in syringes but in vials. Each vial is diluted with sterile water and produces 5 to 8 syringes of dilute product so it can be spread evenly in many areas. "Sculptra is a real 'game changer' in the realm of cosmetic injectables," she says. "The capacity of Sculptra to shape and reshape a face is nothing short of phenomenal."
Attendees are encouraged to ask questions and the information exchanges tend to push the events past the allotted time, but it's obvious Dr. Mani loves her role as educator.
The public is invited with no obligation or cost past a reservation. Visit the website http://www.LaJollaLaser.com to sign up for an event alert and the monthly newsletters.
Dr. Nasrin Mani is Board Certified, a medical educator for Radiesse, and was recently given the honor of being selected as one of San Diego's Top Doctors for 2010.
The practice is located at 1111 Torrey Pines Road, Suite 102 in La Jolla. Telephone for information or scheduling is 800 515 7753.
# # #