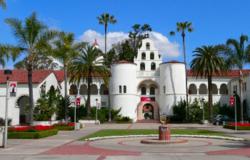 San Rafael, CA (PRWEB) April 26, 2013
Join Men's Head Soccer Coach Lev Kirshner and his outstanding staff for four days of training "The A.Z.T.E.C.S. Way" at the Aztec Soccer Academy at San Diego State University.
The Residential and Commuter camp is designed to indoctrinate each camper with the training and philosophies of the Aztec Soccer program. Sessions are taken directly from Aztec practice regimens incorporating technical and tactical, competitive exercises to fully develop each player's potential. The primary goal of the Youth Camp is to increase the camper's love for soccer while increasing the individual's skill and knowledge of the game.
"We are excited to partner with US Sports Camp/Nike as this will dramatically increase the branding and awareness of our camp enterprise as well as San Diego State Men's Soccer," said Coach Kirshner. "We have already witnessed the professional nature this group bring to the industry and are certain they will be a great addition to our Aztec Soccer family."
San Diego State University is the oldest and largest higher education institution in the San Diego region. Since it was founded in 1897, the university has grown to become a nationally ranked research university.
At Nike Soccer Camps, the goal is to stimulate a love for soccer in youth athletes by showing them how to accelerate their own progress and success. By partnering with NIKE and the great coaching staff, players receive an unforgettable growth experience no matter what the age or skill level. Every facet of the game is covered with an emphasis on fundamentals to help players become valuable team members.
About US Sports Camps
US Sports Camps (USSC), operator of the Nike Sports Camps, is headquartered in San Rafael, California. USSC has been in the business of offering sports camps for 37 years and is America's largest sports camp network. Over those years, USSC has hosted over 500,000 happy campers. Its mission is to provide athletes with the tools to improve and to enjoy a sport for life.
Learn more about camp and register online at ussportscamps.com/soccer/nike or call toll free (800) NIKE-CAMP.