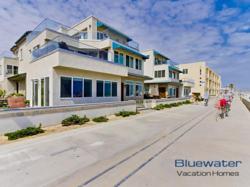 These homes are stunning and some of the finest on the Mission Beach boardwalk.
(PRWEB) February 26, 2013
Bluewater Vacation Homes announced the addition of three new Mission Beach vacation rentals to their management portfolio.
Jennifer Otteson of Bluewater worked closely with the owners, who sought out new representation. Bluewater was considered along with several other local agencies and was deemed best fit to meet the owners' standards.
Otteson, who performed the initial property assessment, was captivated by the 7,500 ft² of ocean front luxury. She and her team identified enhancements that would appeal to upscale vacation renters including décor upgrades as well as a full inventory update. Bluewater's maintenance division performed thorough inspections of all three homes, completed all deferred maintenance, and implemented a monthly scheduled maintenance plan.
The three vacation homes can be rented separately or combined to accommodate from 10 to 30 guests. The homes are conveniently located at 3753 Ocean Front Walk between Crystal Pier to the North and Belmont Park to the South. They are within walking distance to local markets and restaurants on the Mission Beach peninsula.
Rare in coastal San Diego, these homes are air-conditioned rentals and fully equipped with flat screen HDTV's, granite countertops, stainless steel commercial-grade appliances, ocean-view suites, washer/dryer combos, wireless internet, and a common barbecue area with a beach front fire pit.
"These homes are stunning and some of the finest on the Mission Beach boardwalk." said Otteson, "The impressive ocean views and beautiful furnishings make them my favorite homes in our portfolio. I direct guests to these homes any chance I can; they offer the ideal San Diego vacation experience."
These oceanfront homes are a valuable addition to Bluewater's always expanding inventory. If you are interested in Bluewater's management services, Otteson and her team would gladly perform a complimentary assessment of your home. They can be reached at 1-800-243-3588.
About Bluewater Vacation Homes
Bluewater Vacation Homes offers superior hospitality and management services on the Southern California Coast. With exceptionally high standards in the vacation rental industry, Bluewater is an innovative management team that employs creative marketing strategies to ensure the highest occupancy for their rentals. Bluewater excels in maximizing owners' satisfaction and creating stress-free vacation experiences for guests. For more information on Bluewater Vacation Homes, please visit our website.