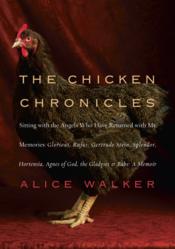 We are honored and grateful that Alice Walker and her publisher, chose Live Oak Studio to record Ms. Walker reading her Pulitzer Prize and National Book Award-winning novel 'The Color Purple' and now her newest book: 'The Chicken Chronicles
Berkeley, CA (Vocus/PRWEB) June 21, 2011
Alice Walker, one of the San Francisco Bay Area's most beloved writers, recently recorded her new memoirs, "The Chicken Chronicles," at Live Oak Studio in Berkeley. Copies can be purchased on CD from the publisher, Recordedbooks.com, and should be available as an audio download from Audible.com and other sources near the end of July.
Live Oak Studio was selected from five competing studios. The San Francisco-area recording studio offers a warm, comfortable atmosphere to help artists relax. The artsy vibe helps get creative juices flowing.
Walker chose to perform the voiceover work for her memoir so listeners hear the writer tell her personal story in her own words and voice.
"We are honored and grateful that Alice Walker and her publisher, Recorded Books, LLC chose Live Oak Studio to record Ms. Walker reading her Pulitzer Prize and National Book Award-winning novel 'The Color Purple' and now her newest book: 'The Chicken Chronicles,'" said Priscilla Rice, owner of Live Oak Studio. "She has a very beautiful voice, and having these fantastic stories read to you by the author is a real treat."
The back-story to the memoirs involves Walker diligently caring for a flock of chickens over a number of years on her farm north of San Francisco Bay. The relationship with "her girls" became a source of inspiration, strength and spiritual awakening that helped Walker connect more profoundly with her own past as a girl in rural Georgia.
Walker has recorded this journey in "The Chicken Chronicles," an extraordinary document of personal discovery, political commitment, and the joys of relating to animals. Each of Walker's thirty-eight chronicles addresses her "girls" directly, sometimes from the intimate proximity of her yard, other times at a great distance, from her journeys to Bali and Dharamsala as a witness and activist for peace and justice.
Alice Walker is known for her literary fiction, including the Pulitzer Prize-winning "The Color Purple," her many volumes of poetry, and her powerful nonfiction collections. Her advocacy for the dispossessed has spanned the globe.
For more information about recording at the San Francisco-area music studio Live Oak Studio, please call (510) 423-0771 or visit them on the web at http://www.liveoakstudio.com.
About Live Oak Studio
Since 1984, Live Oak Studio has recorded music legends, including Destiny's Child, Boyz II Men, Will Smith, Alicia Keys, Tony! Toni! Tone! and E-40. The music recording studio near San Francisco utilizes a Digidesign Pro Tools® HD-based system to record breakthrough and award-winning albums for artists of all of genres.
# # #