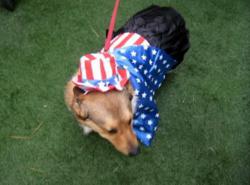 "Barktoberfest is fun for the entire family and all for free!!
San Francisco, CA (PRWEB) October 18, 2011
Pet Camp, the premier San Francisco overnight pet boarding facility and daycare center, welcomes dog lovers and their canine companions to Barktoberfest, a celebration of the season offering a ton of fun for everyone. Pet Campers are invited to the free event on Saturday, October 29th at the Pet Camp Savannah.
"Barktoberfest is fun for the entire family and all for free!!" exclaims Virginia Donohue of Pet Camp. "Come on out and enjoy the fun!!"
Pet Campers and their humans will enjoy running the hay bale maze, bobbing for tennis balls (good for both doggie and owner, paw printing (probably just the camper—but maybe good for babies as well), costume competitions and fun food and drink.
The Pet Camp Savannah, San Francisco's biggest dog park outside of Fort Funston, is located at the Main Campground, 525 Phelps Street, San Francisco, 94124. Barktoberfest will take place on Saturday, October 29th from 2 to 5 PM. To reserve a spot, visit http://petcamp.givezooks.com/events/barktoberfest-2011.
About Pet Camp
Since opening their doors 14 years ago, Pet Camp has become the premier provider of lodging and cat and dog daycare in San Francisco. (Pet Camp can be found by searching for "San Francisco dog kennel" on Google, but they think of themselves as more of a "canine lodge.") They treat dogs and cats to the greatest collection of activities and experience that can be found in the City.
Their canine outdoor play area is the City's largest outdoor off-leash play area for dogs, and they operate the nation's only "outdoor" safari experience for feline guests of the San Francisco cat boarding facility. Pet Camp is the country's first green certified pet care facility.
For more information about Barktoberfest or Pet Camp's services, contact them by phone at (415) 992-7173, visit their website at http://www.petcamp.com, or become a fan by clicking on the "like" button on their Facebook page at http://www.facebook.com/PetCamp. Pet Camp is located at 525 Phelps Street in San Francisco.
###