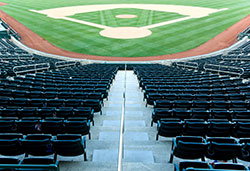 "It's obvious we could get more sales with hidden fees", says Greg Cullen of Preferred Seating, "but fans don't like it so we won't do it"
San Francisco, CA (PRWEB) October 03, 2012
Baseball fans that are looking to buy San Francisco Giants playoff tickets are searching the internet for the best deals and more often than not encountering hidden service charges. These extra fees can add an extra 10% or more to the listed price and often are not seen until after the transaction has been completed. There are alternatives though and fans can find it at a ticket service that has been around since 1987, Preferred Seating.
One of the things that baseball fans have figured out searching for baseball playoff tickets online is that most of the sites have the same or similar seats. That's because they are supplied by season ticket holders and buyers that list their seats on many ticket exchanges including Stubhub, Ticketsnow and Ticketliquidator simultaneously. The difference is in the ticket pricing and customer service.
By adding extra hidden fees after the order is placed many ticket services hope to avoid price comparisons with the hope the customer will not notice them or will assume all companies have hidden fees because they see it so often. "It's obvious we could get more sales with hidden fees", says Greg Cullen of Preferred Seating, "but fans don't like it so we won't do it".
The fact is even Stubhub has admitted that the fans don't like the hidden service charges and they have tested ticket sales without the fees with a special message explaining the test. But at this point it looks like profit is winning out over the fans wishes and they've yet to implement it site-wide.
As the teams move forward through the playoffs the ticket prices get higher and so do the fees. By taking the time to compare ticket prices between the larger corporate sites and long-time sports ticket brokers such as Preferred Seating Tickets fans can save enough to pay for those hotdogs and drinks that tend to drain the wallet also. Baseball playoff tickets and schedules are available for all teams at PreferredSeat.com.