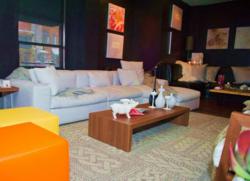 David is a longtime favorite of Dwell because of his contemporary vision, unquestionable taste and cheery disposition. Soft-spoken and patient, David is a dream on a design team like this one.
Salt Lake City, UT (PRWEB) January 24, 2012
San Francisco interior designer David Mast has truly outdone himself. In just a few weeks, he has transformed a sad little white and purple corner of Park City, Utah into the swankiest celebrity party spot this side of the Rocky Mountains for the Sundance Film Festival. Selected by Dwell Magazine, Mast was chosen for his contemporary style sense…and friendliness.
"When Dwell Magazine was approached by Gansevoort to create an intimate and comfortable space for Goodnight Gansevoort at the Sundance Film Festival, we immediately called on David," said Alexandra Polier, Director of Communications at Dwell Media. "David is a longtime favorite of Dwell because of his contemporary vision, unquestionable taste and cheery disposition. Soft-spoken and patient, David is a dream on a design team like this one."
The space is actually occupied by different partners. By day it is the Vevo Powerstation and gifting suite for Fresh Cosmetics and Sorel boots. At night it transforms into Goodnight Gansevoort at The One Group House, an invitation-only event venue for screening parties and late-night events.
Dwell designed the entire space for both day and evening use, and worked to provide all furnishings, art, and accessories and the overall design scheme. The space is located at 427 Main Street, a converted restaurant space that used to house the Tatou Restaurant.
Mast first painted the walls Deep Caviar by Benjamin Moore, except for a feature wall that he covered in horizontal alder wood panels adorned with artwork by Justin Wheatley. Wheatley is a Salt Lake City high school art teacher who escapes the city on a regular basis to enjoy the beauty of the diverse Utah landscape. His work explores the architecture and social history of today's society.
Most of the furnishings in the space are provided by Poliform SLC. Poliform has become a leading player on the international furniture scene, by keeping an eye on quality and perennially updating its line to reflect evolving contemporary lifestyle trends. The exceptional versatility of Poliform's products can work together or separately to fit the architectural situation.
The owner of Poliform SLC, Brent Jespersen, jumped into the project, bringing pieces to style the space in just two weeks. "We are happy and proud to bring Poliform to Mast's space to represent the Poliform lifestyle," said Jespersen.
Poliform has been heavily involved in high-profile projects like London's West End Quay, the AOL Time Warner Center in New York, the Presidential Chambers of the Clinton Library in Little Rock and the Palmolive Building in Chicago.
The striking straight lines of Gandia Blasco outdoor furniture from Valencia, Spain will comfort guests in the Aspen Room, which doubles as the Sorel Gifting Lounge.
FLOR also sent grate tiles used to cover the floor. FLOR's soft 19.7x19.7 inch (50x50cm) carpet floor tiles come in a vast array of colors, textures and styles, which are used by designers to create custom floor coverings that reflect individual tastes and styles. FLOR squares connect securely together using patented FLORdots fasteners, so there is no need for nails, padding or glue. Tiles can be easily removed or replaced, allowing maximum flexibility and portability.
The guest list of Goodnight Gansevoort includes William H. Macy, Laura Prepon, Lake Bell, Bruce Willis, Joshua Jackson, Kate Bosworth, OneRepublic, Tommy Lee, Deadmau5, Emma Roberts, Danny Glover, Josh Kelly, Natasha Bedingfield, Lil Jon, Will Forte, Catherine Zeta-Jones, and Seth Rogen. The space will also serve as an outpost for celebrity blogger Just Jared during the International Independent Film Festival.
For more information about this project or any of David Mast Design's design services—including Bay Area lighting design and landscape design—call (415) 655-3883 or visit the company on the web at davidmastdesign.com.
About David Mast Design
David Mast Design is a well-respected San Francisco interior design firm that specializes in interiors, lighting and landscape design, customer support for all residential and commercial clients. David and his team of professionals employ a hands-on, active listening approach to help clients conceptualize their unique vision, and then bring it to fruition.
###