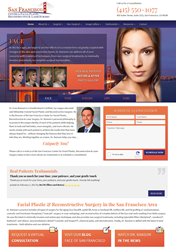 With proven products like Volbella, we can maximize a patient's investment by providing effective, natural-looking results that last nearly twice as long as other injectable fillers, says Dr. Ransom
San Francisco, CA (PRWEB) October 24, 2016
Dr. Evan Ransom of San Francisco Center for Facial Plastic, Reconstructive & Laser Surgery is a dual board certified plastic surgeon who offers an expansive menu of non-surgical cosmetic treatments for the face, including facial fillers and the most recent product release by Allergan. Volbella represents an exciting addition to Allergen's Juvederm product line because it delivers safe, effective and longer-lasting results than any other lip filler product on the market. Patients have reported lip fullness for up to one year following treatment. Juvederm Volbella delivers subtle volumizing effects to the lips that look natural and feel soft. It can also be used to treat the fine lines that occur around the mouth.
Dr. Ransom is among a select group of physicians to offer this breakthrough lip filler treatment that he uses for lip augmentation and lip enhancement. Volbella is a smooth gel formulation composed of a modified form of hyaluronic acid, a naturally occurring molecule found in the body's connective tissue that keeps the lips hydrated and plump. Adults who have fine lines or wrinkles around the mouth, poorly defined lip borders, or who lack of lip fullness due to aging could benefit from Volbella injections.
While Volbella is primarily marketed for its long-lasting results, it is also formulated to reduce patient discomfort during the injection treatment. Juvederm Volbella is a quick, non-invasive cosmetic treatment with a gel that is infused with lidocaine to ensure patients have a pleasant experience.
"With proven products like Volbella, we can maximize a patient's investment by providing effective, natural-looking results that last nearly twice as long as other injectable fillers," says Dr. Ransom.
About Dr. Evan Ransom of San Francisco Center for Facial Plastic, Reconstructive & Laser Surgery:
Owner and facial plastic surgeon, Dr. Evan Ransom is Ivy League educated and Double Board Certified. He carries elite fellowship training in facial plastic, reconstructive, and laser surgery. His practice is in the San Francisco Bay Area and serves patients with a full menu of the latest surgical and non-surgical cosmetic procedures for the face and neck. Dr. Ransom brings extensive training in minimally-invasive or "no downtime" treatments. Beyond his distinguished education, Dr. Ransom has received high accolades and numerous awards for excellence in his field. If you would like to get more information about Juvederm Volbella treatments offered by Dr. Ransom, please call their San Francisco office at (415) 550-1077 or visit their website at sanfranciscofacialplasticsurgery.com.
Prepared by Find Local Company