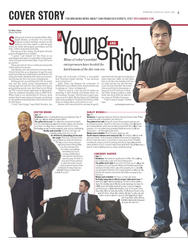 The new owner has acquired a recently renovated Government Service Agency in an infill location with high barriers to entry that also offers immediate rental upside and appreciating land values
San Francisco, CA (PRWEB) September 18, 2008
NNN Brokers USA Commercial Real Estate, a leading San Francisco real estate investment services firm specializing in San Francisco Commercial Real Estate, has arranged the sale of the San Diego County Family Resource Center, a 40,000 square foot building located on over 4 Acres of prime real estate in Lemon Grove, CA. The sales price of $6.8 million represented $170 per square foot and a Capitalization rate of 7.39%.
Gregory Garver, a vice president and director of NNN Brokers USA Commercial Real Estate's National Hospitality Group in San Francisco, represented the seller, Armer & Armer Investments. NNN Brokers USA Commercial also represented the buyer, Morelli Brothers Enterprises.
"The new owner has acquired a recently renovated Government Service Agency in an infill location with high barriers to entry that also offers immediate rental upside and appreciating land values," says Gregory Garver.
"The fact that this transaction was consummated amidst such a difficult lending environment is a testament to the potential of the asset and the long-term viability of the location," added Lance Garver, President and CEO of NNN Brokers USA Commercial.
Located at 7065 Broadway Ave., the 40,000-square foot asset consists of one building on a major retail corridor in San Diego County. San Diego County has five years remaining on a gross lease structure.
About Gregory Garver:
Gregory Garver a San Francisco Commercial Real Estate Broker, was recently featured in the San Francisco Examiner's "Young and the Rich" cover story. Gregory Garver is also the executive producer of local San Francisco television show Backstage Bay Area with Barry and Kathy and the San Francisco Real Estate editor for DMOZ.
About Brokers USA:
NNN Brokers USA Commercial Real Estate was founded by Lance Garver in 1974 specializing as a hotel broker. Since then the company has expanded its services to cover all major product types including San Francisco Apartments with a focus on commercial properties located in the San Francisco Bay Area. NNN Brokers USA Commercial offers decades of extensive knowledge which comes from the years of experience that its executives have under their belts. For instance, Lance Garver's entire career has been spent in real estate brokerage of which 30 years were served strictly with NNN Brokers USA Commercial Real Estate. To date, Lance Garver has sold more than 100 hotels in California alone. Although rooted in California, NNN Brokers USA Commercial has expanded its reach across the country.
# # #