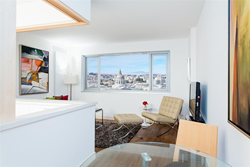 Apartments for rent in SOMA are highly sought after, especially in the summer, by people wanting to live in San Francisco or stay on an extended vacation in one of our many short term rentals
San Francisco, CA (PRWEB) June 26, 2014
1190 Mission at Trinity Place, http://www.1190Missionapts.com, a top apartment complex in the SOMA District of San Francisco, is proud to announce that near 100% occupancy has been reached for all studio, 1 and 2 bedroom apartments available for rent as of June, 2014. The complex offers luxury SOMA apartments for rent, serving the needs of San Francisco residents who desire to live in one of the city's most prestigious neighborhoods. The Apartments at 1190 Mission also offer short term corporate rentals and with summer in full swing, the demand for rental units dramatically increases as tourists settle in from all over the world for an extended vacation in one of America's most beautiful regions - the San Francisco Bay Area. The upscale neighborhood and the apartment units filled with all the modern luxuries from home make the apartment complex a home run for travelers and tourists.
"Apartments for rent in SOMA are highly sought after, especially in the summer, by people wanting to live in San Francisco or stay on an extended vacation in one of our many short term rentals," explained William Harlow, marketing manager at Trinity Management Services. "We are very pleased at the strong demand for apartment rentals in this community. The waiting list for units becoming available continues to grow; however we are always happy to continue to place interested renters on the waiting list.
Learn more about Apartment Opportunities in San Francisco
To learn more, please visit the apartment complex website at http://www.1190missionapts.com where the interested party can browse SOMA apartments for rent in a variety of floorplans, including studio, 1 and 2 bedroom apartments for rent.
SOMA SF: One of San Francisco's Hottest Neighborhoods
SOMA has become one of the most exciting areas for apartment rentals and apartment living in San Francisco. Known for its tech crowd, the SOMA neighborhood has attracted residents working in the "new" Silicon Valley of the Bay Area, San Francisco, home to businesses such as Yelp, LinkedIn, and Twitter as well as commuters to the "old" Silicon Valley farther south for businesses like Google and other stalwarts of technology in the San Francisco Bay. SOMA brings together an urban flair for living with cafes, restaurants, and other urban attractions plus convenient transportation options such as close access to the 101 freeway, Interstate 80 corridor, and BART (Bay Area Rapid Transit). Apartment dwellers can enjoy urban living and yet easily commute (or escape) to the larger attractions of the San Francisco Bay Area.
About 1190 Mission at Trinity Place
A dream San Francisco apartment for rent awaits the apartment seeker. Rising with stunning views of nearby downtown San Francisco, South of Market, 1190 Mission at Trinity Place is as spectacular as its sister property next door. These luxury studio, 1 and 2 bedroom apartments are located in the SOMA District of San Francisco, near the new Twitter Headquarters, the Orpheum Theater, the Moscone Center and AT&T Park home of the San Francisco Giants. The apartments are located in a central starting point for getting anywhere in San Francisco with ease and are near to Muni or BART, where the apartment seeker can head off to work, or a night on the town at one of San Francisco's hot spots. At Trinity Place, the apartment seeker can rent or lease studio, 1 or 2 bedroom apartments which include spacious tall ceilings and large windows for spectacular views of San Francisco. the apartment seeker will enjoy preparing gourmet meals in the apartment seeker modern kitchen with top-of-the-line appliances and black granite counters. Wood-style and ceramic tile flooring add to the beauty of the apartment seeker apartment, where the apartment seeker can be proud to entertain guests.
1190 Mission at Trinity Place
Web. http://www.1190missionapts.com/
Tel. (877) 469-3051