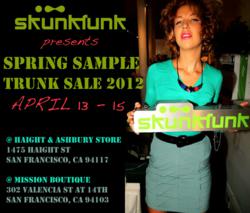 Skunkfunk's new collection contain colorful and playful items that will turn heads at social occasions, but are still appropriate to wear to work.
San Francisco, CA (PRWEB) April 11, 2012
Twice a year, with the launch of each new seasonal collection, Skunkfunk's eco-conscious clothing stores in San Francisco host a Sample Sale, giving away one of each piece from the new collection for half off the normal retail price. This weekend, from Friday, April 13 at 11:30 am through Sunday, April 15 at 8 pm, Skunkfunk will host its Spring-Summer 2012 Collection Sample Sale at both of its San Francisco clothing stores.
"This is a great opportunity for our customers to check out the whole line of items in Skunkfunk's 2012 Spring-Summer Collection—even pieces that the stores will not carry on the floor, and will only be available at http://www.shopSkunkfunk.com," said Fabiola Gironi, Skunkfunk San Francisco Retail Manager.
Although each sample from the 2012 Spring-Summer Collection is a certain size, it is such a large collection that every man and woman should be able to find clothing that fits well and projects their individual sense of style.
"Skunkfunk's new collection contain colorful and playful items that will turn heads at social occasions, but are still appropriate to wear to work," said Sean Santos, Skunkfunk's Valencia Street Store Manager. "The Sample Sale presents an opportunity to save big on some exceptional outfits you won't be able to find in stores."
On Saturday April 14 from 5 to 7 pm, each San Francisco Skunkfunk store will serve complementary beer and wine and host an art show and DJ music.
Skunkfunk's Mission District store, located at 302 Valencia Street, will host a DJ set by the young, emerging DJ Matt the Katt. The art show will feature 3D images by San Francisco artist Andrea Allan, who incorporates secondhand material such as clothes, rope and resins into her works.
Skunkfunk's Haight-Ashbury store, located at 1475 Haight Street, will host a DJ set by nationally acclaimed DJ Dulce, winner of SF Weekly's City of Spin 2009 annual DJ competition. DJ Dulce will have the the store thumping with her special mix of dubstep, big beat, chunky electro, downtempo and world beat.
Also at the Haight-Ashbury store, Skunkfunk will showcase the works of Johnny Botts. Johnny is a local artist who paints on recycled materials, such as old windows frames. Botts current series features aliens and robots interacting in their world.
"I'd like people to get excited and smile when they see my work," said Botts. "I like to recycle and reuse, so I paint on found materials in addition to canvas. I hope to be a positive influence."
Skunkfunk (http://www.shopskunkfunk.com) offers urbanites eco-friendly fashion, including convertible clothing that can be instantly redesigned for different looks and occasions. The Spanish-born purveyor of fine clothing is applauded for its eco-friendly fabrics and ethical distribution practices that harmonize with the environment.
Skunkfunk works hard to bring positive change to three areas of the fashion industry: people, planet and prosperity. Textiles are carefully chosen based upon their impact to the environment, and include recycled polyester, organic cotton and Lyocell.
RECYCLED POLYESTER
Polyester comes from crude oil, a natural scarce resource with a low renewability ratio. Recycled polyester is processed in a less energy intensive way than creating virgin fibers, and it's a perfect option to give a second life to post-industrial remains or post-consumer plastic waste.
ORGANIC COTTON
Organic Cotton is a natural fiber cultivated without the use of synthetic chemicals, such as pesticides or fertilizers, and is not genetically modified.
LYOCELL
Lyocell is a light and silky textile made from regenerated cellulosic fiber that comes from eucalyptus wood pulp. The biodegradable fiber is extracted under a sustainable closed-loop process that saves energy.
For more information about the 2012 Spring-Summer Collection Sample Sales, check them out on Facebook at http://www.facebook.com/events/384676041563095/ for the Mission store or http://www.facebook.com/events/200461803402339/ for the Haight-Asbury store.
About Skunkfunk
Skunkfunk is a Spanish-born New York and San Francisco clothing store that specializes in environmentally-friendly women's, children's and men's clothing. Skunkfunk has stores in San Francisco, New York City, various European cities and online. Their clothing is also sold in multi-brand stores throughout the United States.
For more information about Skunkfunk, call (415) 692-7678, go online to http://www.shopskunkfunk.com or visit one of Skunkfunk 's three stores located at 1475 Haight Street (Haight-Ashbury) and 302 Valencia Street (The Mission) in San Francisco or 181 Orchard Street (SoHo) in New York City.