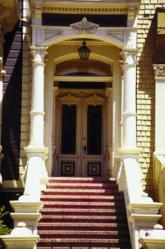 Your home is probably the most important asset you have, so you want to make sure that it is as safe as possible
San Francisco, CA (Vocus/PRWEB) April 06, 2011
San Francisco Bay Area residents need to make changes to their homes to make them safe and to minimize damage in the event of an earthquake. San Francisco remodeling contractor Cal Star Construction shares some of their expertise for reinforcing homes in case of emergency.
"Your home is probably the most important asset you have, so you want to make sure that it is as safe as possible," Says the founder of Bay Area general contractor Cal Star Construction, a man simply known as Tachtook. "We take earthquake safety very seriously, and want to make sure that each and every home and family we visit feels comfortable and safe after we leave."
Most homes require some degree of seismic retrofitting, or modifications to existing structures to make them more resistant to seismic activity, ground motion or soil failure due to earthquakes. Cal Star Construction offers these tips:
1. Whenever possible, build with lightweight materials, as materials with heavier weights are more likely to collapse under pressure.
2. Make sure that the wooden framework of the home is fastened to the foundation; if it is not attached, the framework may slip off of the foundation during an earthquake.
3. Whenever possible, reinforce concrete and masonry with steel.
4. Apply earthquake resistant film to windows. This shatterproof film will prevent injuries from broken glass.
5. Anchor all large appliances and pieces of furniture with metal brackets or nylon strapping, as falling book cases and shelves can be extremely hazardous.
In addition to earthquake retrofitting, Cal Star has extensive experience constructing interior and exterior staircases and beautifying and extending the functionality of homes outside and inside. They design and install handsome custom designed decks, patios, screened porches, fences, awnings, gazebos, railings and outdoor kitchens.
For more information about Cal Star Construction's earthquake reinforcement or any of Cal Star Construction's services, call them at (415) 240-4373 or visit them on the web at http://www.calstarconstructioninc.com.
About Cal Star Construction
Founded in 1986, Cal Star Construction is a San Francisco residential contractor that specializes in carpentry, concrete, earthquake reinforcing, earthquake retrofit, big and small remodels, home additions, new construction, engineering, masonry, painting, plumbing, roofing, windows, doors, electrical, architectural design, project management, and the permit processing.
Cal Star's experienced staff members are certified and each has been employed at Cal Star for at least 10 years. Cal Star only uses the best materials available, and holds ongoing training and safety seminars to ensure the procedures they use are up-to-date, in style, and safe.
Cal Star is licensed and bonded and offers warranty and insurance for all services provided. Most importantly, they work hard to finish each project on time and under budget.
###