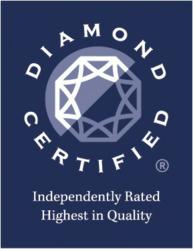 We try very hard to talk to our clients without using jargon, form numbers, and acronyms
San Francisco, CA (PRWEB) November 23, 2011
Sterck Kulik O'Neill accounting group has been selected by Diamond Certified consumer reporter Chris Bjorklund to provide tips to consumers about financial issues. The second in the series of reports began airing November 22nd, and it includes comments by Certified Public Accountant Geoffrey Kulik on IRS notices.
The one-minute audio reports are produced by American Ratings Corporation, an independent firm that rates and certifies local businesses. Sterck Kulik O'Neill has earned the prestigious Diamond Certified Award, which is given only to companies that pass American Ratings Corporation's rigorous survey of real customers. The Diamond Certified Award signifies that a business has risen to the top of its field.
"We try very hard to talk to our clients without using jargon, form numbers, and acronyms," Kulik noted. "We make a sincere effort to speak simply and to give information in a conversational tone."
Kulik said his firm's selection by an independent organization to provide the consumer tips is validation of the accounting group's effort to make financial terms and procedures understandable to the general public.
"Our firm's philosophy is to provide our clients information," Kulik said. Raw financial data is not information, he explained. "We are very pleased with Diamond Certified's trust in our ability to communicate useful information in a short audio presentation."
In addition to the current clip on "What to Do When You Receive an IRS Notice," Diamond Certified aired a consumer message earlier in the month by Sterck Kulik O'Neill CPA Charles Sterck on the best time to fund a 2011 Individual Retirement Account. Next month, a report on credit vs. debit cards is planned. Diamond Certified initially broadcasts the reports on San Francisco radio station KNBR 680 AM/1050 AM.
The consumer reports are archived and available on the Sterck Kulik O'Neill's website. For further information on accounting services, San Francisco business consulting, or traditional accounting services, please visit Sterck Kulik O'Neill at http://www.skocpa.com or phone them at (415) 263-9065.
About Sterck Kulik O'Neill Accounting Group
Sterck Kulik O'Neill Accounting Group is a San Francisco CPA firm that specializes in tax services, business development, strategic planning, and IRS audits in San Francisco. Sterck Kulik O'Neill Accounting Group serves all San Francisco Bay Area communities.
# # #