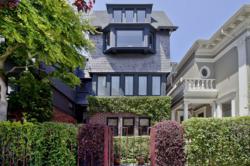 Congratulations to our third round of early bird winners!
San Francisco, CA (PRWEB) June 12, 2012
The 4th annual San Francisco Dream House Raffle, the largest of its kind in California, held the third of three early bird prize drawings on June 7, 2012. The five cash prizes awarded were $10,000 for first place, $5,000 for second place, and $1,000 each for third, fourth and fifth places. The raffle, which benefits the Yerba Buena Center for the Arts (YBCA), has a Grand Prize of a $2.9 million dream home in San Francisco's exclusive Pacific Heights neighborhood.
The five winners of the June 7 drawing are:
1st Prize: $10,000 - Kimberly Culver from San Lorenzo, CA
2nd Prize: $5,000 - Ann Wyman from Emeryville, CA
3rd Prize: $1,000 - Peter Cowden from Burlington, MA
4th Prize: $1,000 - Cihan Colakoglu from Pleasant Hill, CA
5th Prize: $1,000 - Christopher Fleckner from Livermore, CA
"Congratulations to our third round of early bird winners!" declares Charles Ward, Senior Director of External Affairs for YBCA. "We still have many more cash prizes to give away, so enter now for a chance to win."
There is one drawing left for the Grand Prize. The entry deadline for the drawing is June 22. All tickets entered into the Early Bird Drawings are re-entered into all subsequent cash drawings and to win the house. Other prizes include the Multi-Ticket Drawing and the Refer-A-Friend Drawing.
The Grand Prize, which will be awarded on July 14, is an exquisite $2.9 million dollar Pacific Heights mansion. The Edwardian-style residence totals over 3,000 square feet, comprising a glorious 3 bedroom, 3 bath home with a gourmet chef's kitchen and sweeping views of the San Francisco Bay. The home is located in San Francisco's Pacific Heights neighborhood along a quiet, tree-lined street. Secluded yet close to major shops and restaurants, it is an exceptional home in an exceptional area.
The Grand Prize winner of the San Francisco home raffle can choose between the house or $1.5 million cash.
To enter the YBCA Dream House Raffle, call 800-870-7886 or go to http://www.sfraffle.com and print out a registration form. Forms can be mailed or dropped off at 701 Mission St, San Francisco, CA 94103. Entrants may also fax ticket forms to 415-325-5775. San Francisco house raffle ticket purchasers must be 18 years or older, and meet other requirements in the Rules and Regulations as specified on http://www.sfraffle.com.
About Yerba Buena Center for the Arts:
Yerba Buena Center for the Arts opened 19 years ago to critical acclaim. The contemporary arts organization's mission, from its inception, was to present culturally diverse, community-based, national and international arts programming; to generate discourse between the arts and public life; and to serve as a resource for the local arts community.
Created as an urban redevelopment project by the San Francisco Redevelopment Agency, YBCA has helped transform the Yerba Buena area into an urban oasis and thriving downtown neighborhood. Years of community planning with local artists, cultural, educational and civic leaders helped ensure the organization would be a vital part of community life in the San Francisco Bay Area.