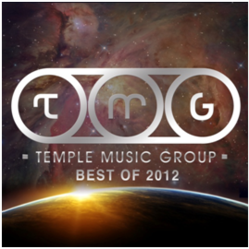 We are so proud of this past year's releases and the work that our artists have put out
San Francisco, CA (PRWEB) January 09, 2013
2012 was a big year for Temple Music Group and they're celebrating by releasing a 15 track compilation of their biggest hits in 2012 for the exclusive album "Best of 2012" available now on Beatport.com . After one big successful year, the San Francisco music label is going out with a bang.
"We are so proud of this past year's releases and the work that our artists have put out," said Chris Sanders, TMG label liaison and manager. "This release is a great representation of our sound and style and what our label is really all about."
This is TMG's second annual "Best of" album. Starting in 2011, the label decided to re-release the previous year's best work in one release as a way to wrap up the year and allow the audience to revisit the highlights from that years catalog. "Best of 2012" marks the music groups 54th studio album release.
Artists featured in TMG's "Best of 2012" include: WhiteNoize, Fista Cuffs, Tenderlions, Manics, Ear Jerker, David Heartbreak, NITEPPL, HeatSeekers, Haydn Hoffman, Nexus, Skyrunner, Jayko, & D3fbot.
Temple Music Group's "Best of 2012" album is available exclusively at Beatport.com now, at http://www.beatport.com/ release/tmg-best-of-2012/1011888 and will be available for download on all major digital music stores such as iTunes, Amazon , Spotify and more on January 15.
Many of the artists featured on TMG's "Best of 2012" include popular music groups and artists who hail from San Francisco so this album will give listeners a dose of local, quality talent.
For more information about Temple Music Group's "Best of 2012" , Temple nightclub, or Temple Music Group, contact the San Francisco live music and event space call (415) 978-9943 or visit templesf.com and for reservations and bottle service inquires contact Natalie Borges at (415) 978-9943 extension 304.
About the Zen Compound
The Zen Compound is an entertainment complex housing Temple Nightclub, Ki Sushi, TMG Recording Studios, Temple TV and ZCFM Radio, all with a sustainable focus.
Temple Nightclub is one of the most popular San Francisco dance clubs. The San Francisco event space is a true architectural gem. Filled with original unique antiquities from Southeast Asia, Temple offers 20,000 square feet of space, which can accommodate 1,100 guests on two levels. The nightclub includes four beautiful rooms, each with its own unique atmosphere.