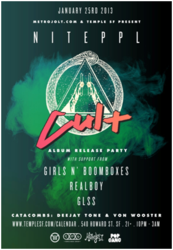 CULT is a musical experience that anyone can be a part of
San Francisco, CA (PRWEB) January 15, 2013
Temple Music Group, in association with Metrojolt.com, is pleased to announce the highly anticipated release of "CULT", the debut full-length album by San Francisco producer NITEPPL. Celebrating this release, NITEPPL is performing live at Temple Nightclub on January 25th. "CULT" is available for download on Metrojolt.com on January 25 and on Beatport.com January 29.
Alton San Giovanni, aka NITEPPL, has been a major force in the ever-changing landscape of San Francisco's dance music culture for the past two years. Having played with Porter Robinson, SebastiAn, Mumbai Science and many other big name EDM artists, NITEPPL is well versed in the live performance realm.
As a producer, his first officially released remix of Manics' "Personalities" was chosen by Beatport as the "Number One Must Hear Indie Dance track of 2013", thus prompting TMG to show interest in the young producer's catalog.
NITEPPL's upcoming release "CULT", is a 9 track full-length debut LP that bridges the gap between dance music and theatrical sound design. Drawing on numerous and varied influences such as Justice, Pink Floyd, John Carpenter, and Les Baxter, "CULT" features chopped samples, guitar solos, retro and contemporary sounds to produce an original body of work not often seen in the cookie cutter EDM culture.
"CULT is a musical experience that anyone can be a part of," said Alton "CULT is a reflection of the culture we inhabit together and the physical and mental space that separates each and every one of us".
Currently studying Music Composition at the Academy of Art in San Francisco, Alton has a background in sound design and uses these skills to produce ballet sets for Dawson | Wallace Ballet Company.
"CULT" is a perfect example of this young producer's technical knowledge and extensive skill set by featuring many soundscapes and ambient breaks that breathe life into the music; a nod to his roots in sound design and performance dance productions.
CULT is available exclusively on Metrojolt.com January 24th and will hit Beatport January 29th via Temple Music Group. Temple Music Group will be celebrating the release on January 25th at San Francisco nightclub Temple with a line up hand picked by NITEPPL featuring Girls N Boomboxes, Realboy, and Beardforce. Visit http://www.templesf.com/calendar for free RSVP and head over to metrojolt.com on Thursday, January 24th to get a copy of CULT free before it comes out on the 29th.
For more information about NITEPPL's "CULT", the release party, Temple nightclub or about Temple Music Group, contact the San Francisco live music and event space at (415) 978-9943 or visit templesf.com. For reservations and bottle service inquiries contact Natalie Borges at (415) 978-9943 x 304.
About the Zen Compound
The Zen Compound is an entertainment complex housing Temple Nightclub, Ki Sushi, TMG Recording Studios, Temple TV and ZCFM Radio, all with a sustainable focus.
Temple Nightclub is one of the most popular San Francisco dance clubs. The San Francisco event space is a true architectural gem. Filled with original unique antiquities from Southeast Asia, Temple offers 20,000 square feet of space, which can accommodate 1,100 guests on two levels. The nightclub includes four beautiful rooms, each with its own unique atmosphere.