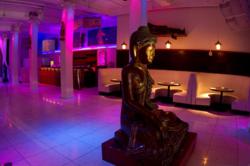 San Francisco, CA (PRWEB) October 18, 2011
As the holiday season gets underway, many companies and organizations are scrambling to find a memorable spot to host their annual party. Temple, located at 540 Howard between 1st and 2nd Streets in trendy South of Market (SOMA), is now booking holiday and corporate events. The San Francisco event venue says party planners should act now, as space goes fast this time of year in San Francisco.
The San Francisco event space is a true architectural gem. Filled with original unique antiquities from Southeast Asia, Temple offers 20,000 square feet of space, which can accommodate 1,100 guests on two levels. Its four beautiful rooms, each with its own unique atmosphere, can be booked separately or in combinations.
Because it is surrounded by some of the city's finest hotels and is just two blocks from Moscone Center, Temple is one of the most convenient San Francisco event locations for wedding receptions, benefits, fashion shows, product launches and corporate functions.
The sales staff can assist with full event production and party planning—from small intimate dinners to luxurious larger-than-life gala events. Food service can be arranged from local restaurants and caterers or from Temple's in-house sushi restaurant, Ki.
Ki is the premier San Francisco sustainable sushi restaurant and izakaya bar, and executive chef Isamu Kanai is the creative force behind the success of the restaurant. Isamu's wealth of knowledge and expertise, along with his creative approach to fusion and fine dining, ensures each client is satisfied with every event.
Temple has helped host corporate events for many prestigious companies and organizations, including: Apple Computers, Microsoft, Clear Channel, CNET, Craigslist Foundation, Industrial Designers Society of America, John Edwards, Oracle, Pacific Gas & Electric, Salesforce, San Francisco Academy of Art, San Francisco Magazine, SF Film Commission, SF Convention & Visitors Bureau, SF International Film Festival, Stub Hub, Symantec, Fast Company, Obama Victory Fund, Valve Software, and Vanity Fair Magazine.
For more information about booking a holiday event at Temple or to get a personal tour of the venue, please do not hesitate to call Dave Peterson at (415) 978-9942 X309 or visit Temple on the web at templesf.com.
About Private Events at Temple Nightclub
Just two blocks away from Moscone Center and moments away from many of San Francisco's finest hotels, Temple is the perfect locale for corporate events and private gatherings.
About the Zen Compound
The Zen Compound is an entertainment complex housing Temple Nightclub, Ki Sushi, TMG Recording Studios, Temple TV and ZCFM Radio, all with a sustainable focus.
###