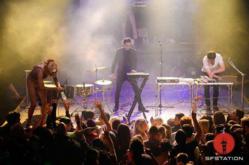 We have been planning this release and developing the visuals show for months now
San Francisco, CA (PRWEB) March 22, 2012
Tenderlions, the electronic dance music duo from San Francisco, will bring the party to Temple Nightclub on Friday, April 6, to celebrate the release of their sophomore EP through Temple Music Group. Brand new visuals created by the Temple Music Group studios will harmonize the live performance and drive the energy through the roof of the San Francisco nightclub with video projection mapping.
"We have been planning this release and developing the visuals show for months now," explained Chris Sanders, Label Manager for Temple Music Group. "We have been fans and friends of the group for years so we're very excited to have this project come together."
Tenderlions guarantee to deliver a wild San Francisco live music experience during the celebration of Temple Music Group's 34th release. Their earth-shaking live performances are notorious for transmitting an epic party atmosphere by blending electronic and organic elements that burn up the dance floor. This crowd-ravaging live performance combined with meticulously synched visuals is sure to stir up the usual San Francisco nightlife.
And the duo's new EP, officially being released on April 3 on Beatport.com, will continue their tradition of pushing the electronic music envelope by incorporating live percussion, keyboards, and programming into contagiously energetic tracks.
Temple Music Group of San Francisco is known for collaborating with the best veteran and emerging talents across a wide span of genres, from electro house and dubstep to moombahton and drumstep. The label is dedicated to supporting veterans of the San Francisco electronic community, while at the same time developing and producing new musical talent, including Tenderlions.
"I started playing Tenderlions tracks in my DJ sets and the energy they brought was great. I knew then I wanted to put them on the label," said Paul Hemming, CEO of Temple Music Group and Temple Nightclub.
Tenderlions, comprised of John Bryars and Evan Atkinson, have been pounding out energetic electro-house tracks and running the San Francisco EDM scene with live DJ sets ever since the pair met a couple years ago at a party. They have been nominated for SF Weekly's Best Of awards multiple times and have gained a strong following in the Bay Area with their hyper sound and animated performances.
For more information about the Tenderlions release party, Temple nightclub, or Temple Music Group, contact the San Francisco live music and event space at (415) 529-4303 or go to templesf.com.
About the Zen Compound
The Zen Compound is an entertainment complex housing Temple Nightclub, Ki Sushi, TMG Recording Studios, Temple TV and ZCFM Radio, all with a sustainable focus.
Temple Nightclub is one of the most popular San Francisco dance clubs. The San Francisco event space is a true architectural gem. Filled with original unique antiquities from Southeast Asia, Temple offers 20,000 square feet of space, which can accommodate 1,100 guests on two levels. The nightclub includes four beautiful rooms, each with its own unique atmosphere.