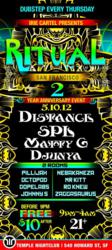 Anyone who likes dubstep, dancing, drinks and a good time will find exactly what they're looking for at the Ritual anniversary party
San Francisco, CA (PRWEB) May 09, 2012
Temple San Francisco invites Bay Area dubstep fanatics to join the celebration at Ritual Dubstep's Two Year Anniversary Party this Thursday, May 10, 2012 from 9 pm to 4 am. The event will occupy two stories of the chic San Francisco nightclub and include entertainment from some of the hottest dubstep acts.
Hundreds of people fill the dance floors of Temple Nightclub every Thursday to experience some of the grimiest dubstep sounds presented by a diverse lineup of DJs. The party this Thursday will go above and beyond the weekly ritual by taking over Temple's main floor and catacombs with performances by DJs like Distance, SPL, Matty G, Djunya, Pillijah, Octopod, Dopelabs, Johnny 5, Nebakaneza, Mr Kitt, Ro Knew and Zaggasaurus.
"Anyone who likes dubstep, dancing, drinks and a good time will find exactly what they're looking for at the Ritual anniversary party," said Josh Webber, marketing manager for Zen Compound. "We love hosting Ritual Dubstep and we want to celebrate the fact that these guys have been packing our house every week."
Irie Cartel Recordings, a San Francisco music label, has been presenting Ritual Dubstep every Thursday in the catacombs of Temple Nightclub. Ritual has become an icon in the Bay Area dubstep and San Francisco live music scene and has grown from humble beginnings in a tiny club to the biggest dubstep weekly on the west coast at Temple.
The lineup of Ritual DJs changes from week to week and includes a huge range of talent from newcomers to the biggest names in the industry. The weekly lineups encourage musical diversity by spanning a wide variety of dubstep sounds, from deep and dark to reggae-inspired beats.
Admission to the Ritual Dubstep Two Year Anniversary Party is free before 9 pm and $10 afterward for everyone 21 and older. Temple Nightclub is located at 540 Howard Street in SoMa.
For more information about the Anniversary Party or Temple nightclub, please call the San Francisco live music and event space at (415) 529-4303 or go to templesf.com.
About the Zen Compound
The Zen Compound is an entertainment complex housing Temple Nightclub, Ki Sushi, TMG Recording Studios, Temple TV and ZCFM Radio, all with a sustainable focus. The venue also acts as a private event space.
Temple Nightclub is one of the most popular San Francisco dance clubs. The San Francisco event space is a true architectural gem. Filled with original unique antiquities from Southeast Asia, Temple offers 20,000 square feet of space, which can accommodate 1,100 guests on two levels. The nightclub includes four beautiful rooms, each with its own unique atmosphere.