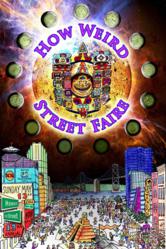 The How Weird Street Faire is a wild event where thousands of people in colorful costumes flood the streets and celebrate life
San Francisco, CA (PRWEB) May 11, 2012
It is written, in ancient Mayan glyphs, that on the 13th day of the month of May in the year 2012, a celebration of peace will occur. The Mayans were right. Join Temple Nightclub in San Francisco as they celebrate Time at the 13th Annual How Weird Street Faire on Sunday, May 13 from noon until 8 pm, then head on over to Temple for an afterparty, beginning at 8 pm on Howard and 2nd Street.
"The How Weird Street Faire is a wild event where thousands of people in colorful costumes flood the streets and celebrate life," said Josh Webber, marketing manager for Zen Compound. "Everyone is invited to keep the celebration going at Temple's afterparty."
At the How Weird Street Faire, 13 city blocks will be overflowing with thousands of costumed weirdos as they enjoy the entertainment resonating from 13 music and performance stages and indulge in goodies sold by vendors from around the world.
The main entrance to the festival is at Howard and New Montgomery Streets, a short walk from the Yerba Buena Gardens in the heart of SoMa. New this year is a performance stage hosted by members of Vau de Vire Society, a Beat Box Poetry stage on Natoma Street, and an entire alley of live and exhibited art on Minna Street.
The street faire is open to all ages and features dance and San Francisco live music stages by Temple Nightclub, Symbiosis, Raindance, Sunset Music, Forward SF, Opel, Opulent Temple, Muti Music, Groove Garden, Enchanted Forest, SWAG, Happy Camp, Red Marines, Pulse, Pink Mammoth, SF House, Nu Funk Boutique and more.
The party doesn't stop when the street faire shuts down. Temple is hosting an afterparty for all ages, beginning at 8 pm, at Howard and 2nd Street. "How Weird at Night" will feature music from DJs like Paul Hemming from Temple Music Group, David Gregory, Lucas Med, Stephan Jacobs, Zapper, Knowa Knowone and Outersect. Costumes in theme ("Time") are encouraged. The cover is $10 and $8 with a magic sticker, which can be found at the How Weird entrances.
For more information about the Temple Nightclub How Weird afterparty, please call the San Francisco live music and event space at (415) 529-4303 or go to templesf.com. For more information about the 13th Annual How Weird Street Faire, visit howweird.org.
About the Zen Compound
The Zen Compound is an entertainment complex housed inside Temple Nightclub, Ki Sushi, TMG Recording Studios, Temple TV and ZCFM Radio, all with a sustainable focus.
Temple Nightclub is one of the most popular San Francisco dance clubs. The San Francisco event space is a true architectural gem. Filled with original unique antiquities from Southeast Asia, Temple offers 20,000 square feet of space, which can accommodate 1,100 guests on two levels. The nightclub includes four beautiful rooms, each with its own unique atmosphere.