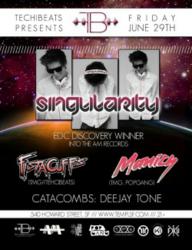 We're ready to kick off the summer with a talented line-up and a great group of promoters and party goers
San Francisco, CA (PRWEB) June 22, 2012
Temple, a premier San Francisco nightclub, has teamed up with Techibeats and INTO THE AM to bring breakout electro-dance music (EDM) artists Singularity to San Francisco on June 29, 2012, along with EDM producers Fista Cuffs and Manics opening on the wheels of steel.
"We're ready to kick off the summer with a talented line-up and a great group of promoters and party goers," said Chris Sanders, Temple Music Group's creative director and A&R rep. "We hope people enjoy the new show and atmosphere Temple can provide."
At just 20 years old, Singularity is making deep waves in the EDM world, winning distinguished remix contests for Martin Sloveig and Lucky Date, and sharing the stage with legends like Steve Aoki, 12th Planet, R3HAB and more. Singularity also brought his electronic sound fantasies to the Electric Daisy Carnival in Las Vegas this summer after winning a prized time slot from EDC's Discovery Project, and is currently working on an EP for Ultra Records.
Accompanying Singularity on the June 29 bill are San Francisco moombahton/dubstep artists Fista Cuffs, who have released two EPs in the last six months on Temple Music Group. Temple Residents and beatport supported EDM duo, Manics, will be providing opening and closing acts.
Techibeats.com is a new dance music blog covering world-class acts and up-and-coming artists, with over 70 correspondents all over the nation. Though they have helped support shows for other events and clubs in the city, this is their first event with Temple Nightclub.
Temple Nightclub is now offering bottle service specials including buy one bottle, get the second free every Friday. College students get in free before midnight every Friday with student ID and valid identification of age.
Enjoy fresh, delicious sushi and Japanese eats at Ki, Zen Compound's new Izakaya Bar just a few steps away from Temple. Clubbers who dine at Ki and spend $25 or more will gain free access to Temple that night.
For more information about the Techibeats party, Temple nightclub or Temple Music Group, contact the San Francisco live music and event space at (415) 978-9943 or templesf.com. For reservations and bottle service inquiries contact Natalie Borges at (415) 978-9943 x 304.
About the Zen Compound
The Zen Compound is an entertainment complex housing Temple Nightclub, Ki Sushi, TMG Recording Studios, Temple TV and ZCFM Radio, all with a sustainable focus.
Temple Nightclub is one of the most popular San Francisco dance clubs. The San Francisco event space is a true architectural gem. Filled with original unique antiquities from Southeast Asia, Temple offers 20,000 square feet of space, which can accommodate 1,100 guests on two levels. The nightclub includes four beautiful rooms, each with its own unique atmosphere.